Server rails and shelves are the best possible way to mount your IT equipment on a server rack. They are designed to meet the standards of the server rack industry with appropriately sized u spacing and width to ensure a good fit on the vast majority of equipment.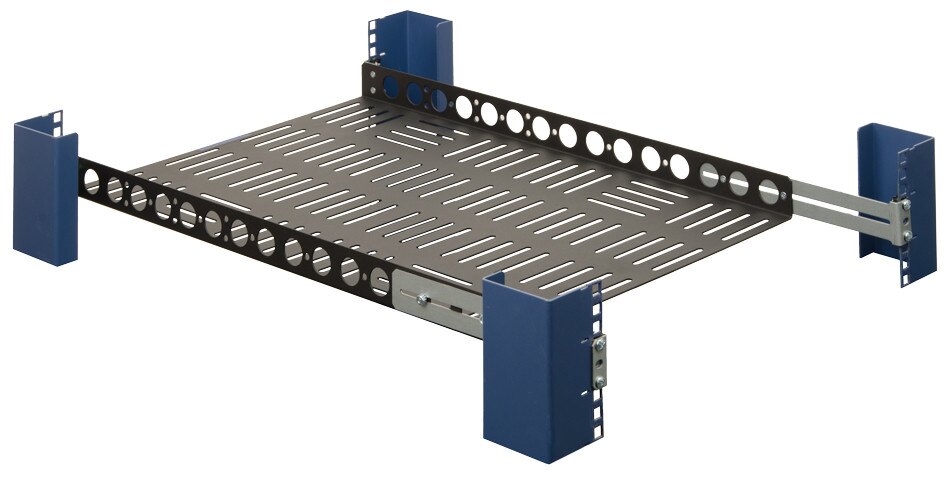 Rack Shelves
Rack shelves are put within racks to support equipment. Shelves support all different types of equipment like servers, laptop computers, desktop computers, IT devices, printers and more. Rack shelves are typically available in the sliding and fixed varieties.
They are compatible with multiple rack styles like the square, round, threaded, 2 post and 4 post racks. The best shelves have mounting depths that can be easily adjusted. Some can even support a weight capacity of up to 900 pounds.
Rack Rails
Rack rails, commonly called rack strips, are used to mount computing hardware. Each rack requires two rails to properly mount equipment. Rails allow users to quickly and easily access hardware equipment for servicing. There's fixed rails, toll-less rails, sliding rails, universal rails, tapped rails, square hole rails and more.
Sliding rails are quite popular as they typically slide to a number of extended positions that make equipment easily accessible and prevent it from moving too far when the rack is extended outwards for service. The rails are mounted onto the rack and the equipment slides on the supporting rails. Certain racks provide a tilting ability that allows the operator to access either the top or bottom parts of the rack equipment when it is at its full extension.
Universal rails exist that will function with equipment that isn't made by one particular manufacturer. The height of the rail is referred to as "U". Each U equals 1 and ¾ inches. Sizes range between 1U and 45 U and they support weights of up to a couple hundred pounds. Sometimes there is a handle affixed to the back section of the server rack rails to make it easier to pull or push the hardware so that cables don't have to be tugged.