In order to simplify the shopping experience for our customers, we've changed the naming convention of one of our most popular product lines. From now on, if you need a rail for a dell server, just type 'Cobra' into our search bar. This should turn up with a few results – one of which WILL work with your 11th gen or newer server.
What rail works with my Dell server?
Due to size, weight and keyhole positioning, right now it's still effective to split up the product line into specialized models. That being said, Our current options are pretty straight forward:
1U Cobra 79 Rail for Dell (122-2579)
The Cobra 79 rail is for your standard 1U Dell server. 'Standard' in this case usually means Intel based servers with no extended or shortened depth.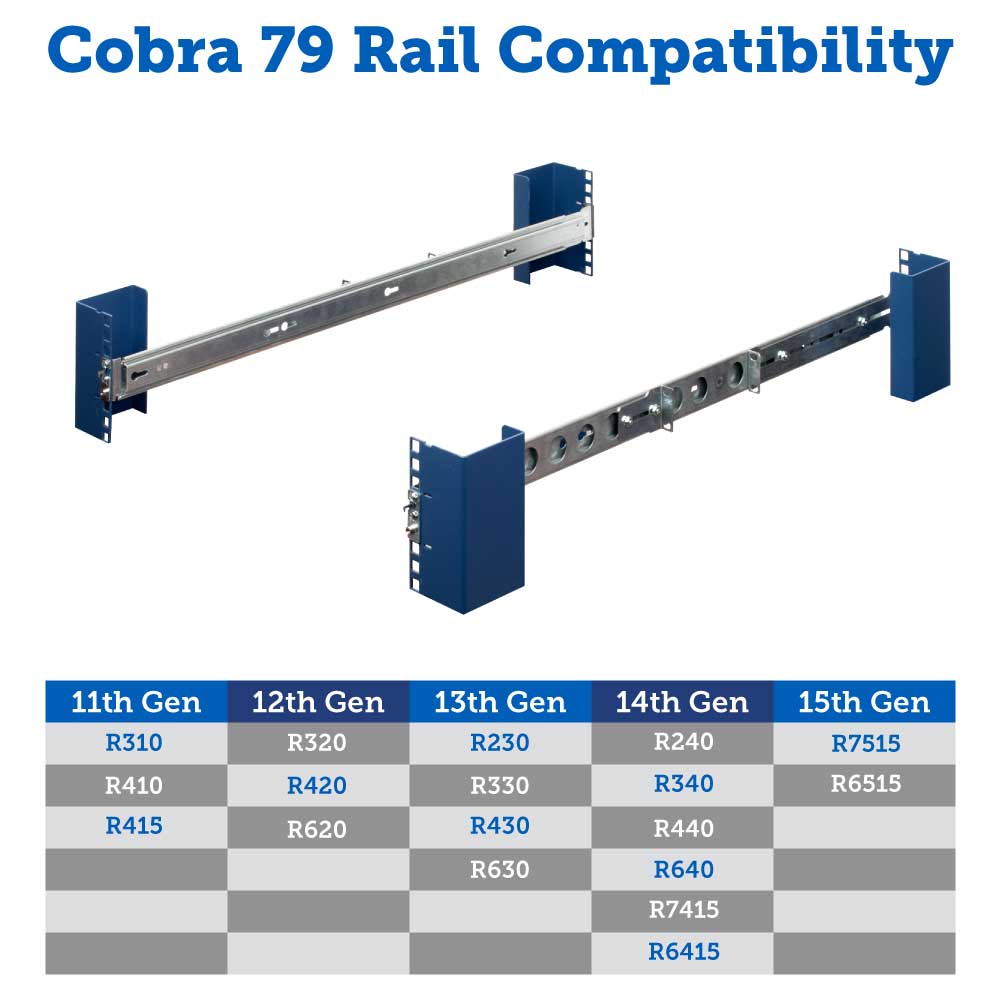 2U Cobra 80 Rail for Dell (122-2580)
Similar to the Cobra 79, the Cobra 80 has an extensive compatibility list. The difference is that these are designed to mount 2U servers with the most common keyhole patterns.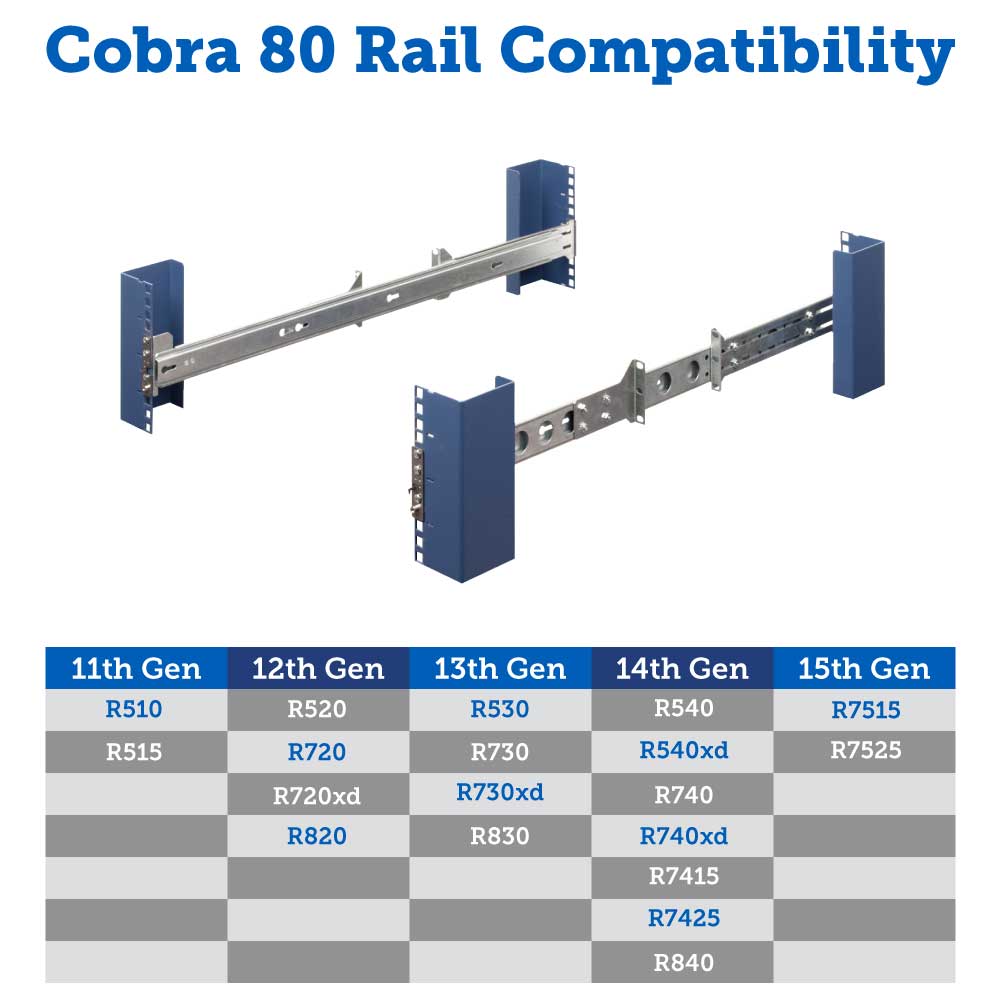 1U Cobra 90 Rail for Dell (122-7390)
The Cobra 90 rail is specifically designed to work with the Dell PowerEdge R6525. This server has different keyhole patterns than the ones above and also happens to be the first server they released with an AMD EPYC processor.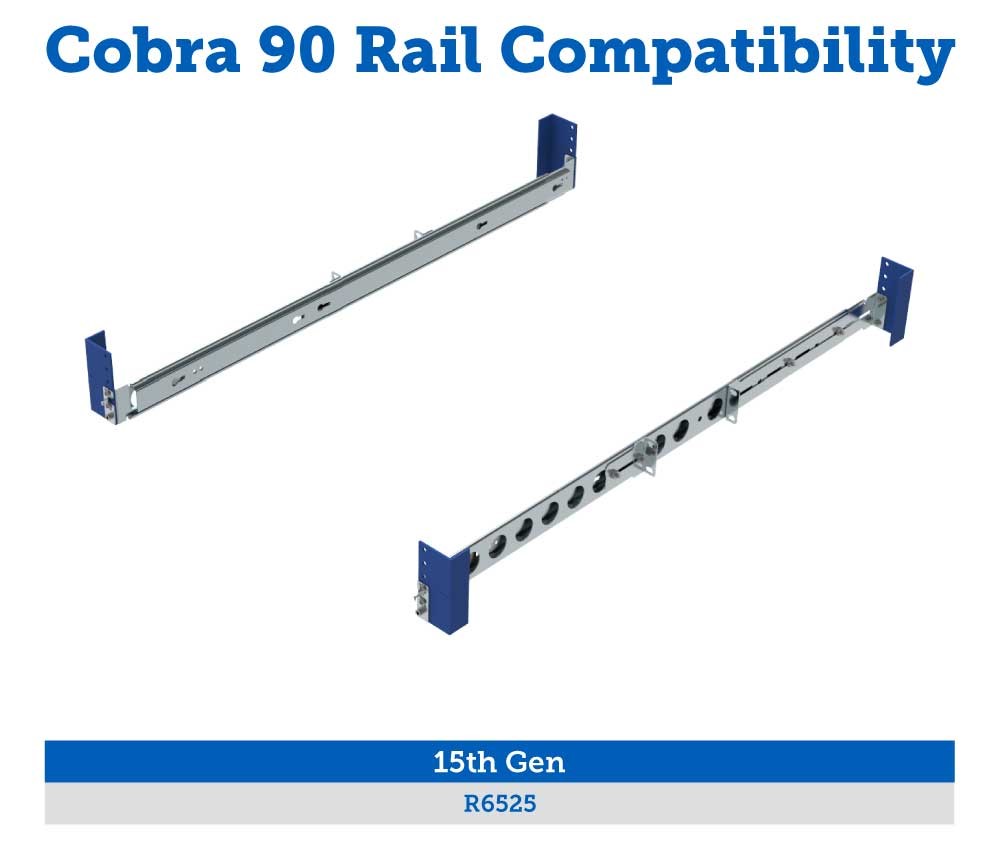 1U Cobra 50 Rail for Dell (122-7650)
Some Dell servers have shallower depths than others and can take advantage of the Cobra 50 rail due to this. Typically, dry slide inner rails protrude from smaller racks because there is no two stage extension like you might see in a ball bearing rail. The Cobra 50 essentially cuts down the inner rail length to provide a better fit for shorter servers.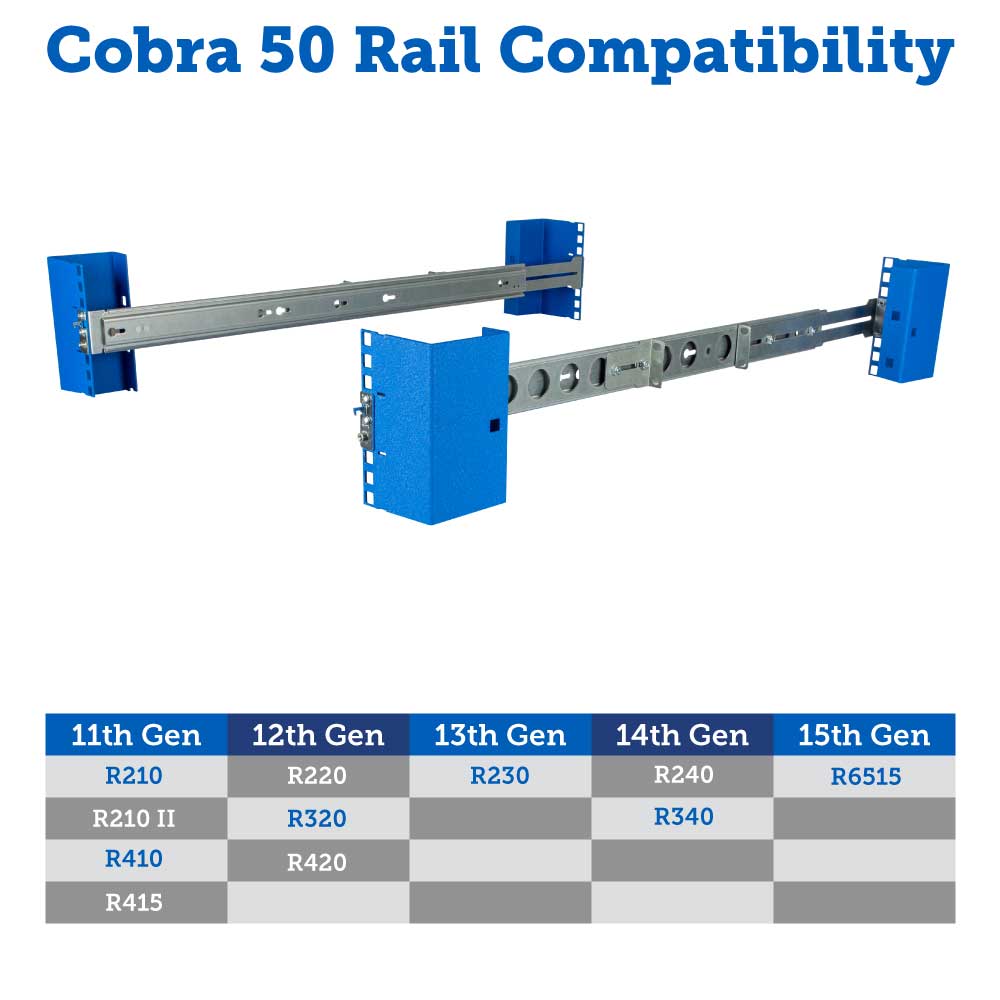 All rails get the same impressive features
Unfortunately, you won't be able to purchase Dell OEM rails without buying a server. These rails are designed to give as close to an OEM feel as possible.
Our engineering team has 20 years of experience designing IT infrastructure products, and they manufactured, shipped and fulfilled all in the same Texas location. Cobra Rails are made out of 18 Ga galvanized steel, some of the highest quality material you will find on rackmount equipment.
We want customers to have everything they need or might need in the future in a single package. That's why all of our Cobra products are slide rails with built in 2 post and 4 post mounting brackets and can be installed in square, round and threaded hole racks.
Basically, when you buy these rails you can feel comfortable knowing that they will last and work in any situation you might need them in.