To understand what a network rack shelf is, you must first understand what a network rack is. A network rack is known by many names (19" rack, server rack, data center rack, etc.) it can be defined as a 2 or 4 post metal frame chassis that is used to store various types of IT equipment. The term "network" is in reference to the equipment housed within the rack, such as routers, modems, switches, and other networking equipment. There are many ways that a network rack can be configured to hold and organize equipment, a network rack shelf is one of those ways.
What is a Network Rack Shelf?
Network shelves, or rack shelves, are shelves specifically designed to be mounted within a network rack. They help organize network rack equipment in a secure and organized fashion without sacrificing large amounts of rack space. RackSolutions network shelves are constructed out of strong 16GA steel and are mounted directly to a server rack. They can be used to hold a wide variety of IT equipment including servers, desktops, laptops, and printers.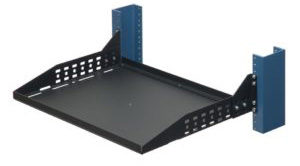 RackSolutions carries a wide array of shelves that can be installed into any 2 or 4 post network racks with a weight capacity ranging from 30lbs to 900lbs. There are many different types of rack shelves designs such as:
These are just a few network shelf options offered by RackSolutions. We also carry shelves custom made for popular streaming devices found on the market, like the Apple TV. Network rack shelves are great for storing and organizing equipment in data center racks, order yours today from RackSolutions! We offer same day shipping for orders placed before 3PM central time.