Software companies need to test their applications on a variety of devices and operating systems. Our Modular Rack Shelf for Device Test Labs makes this process easy with a suite of brackets that can secure anything from smart watches to laptops onto a server rack shelf.
The Modular Rack Shelf for Device Test Labs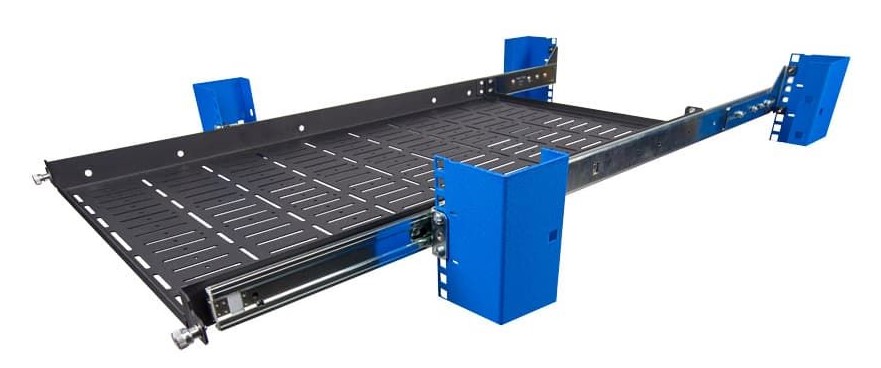 Every year, major electronic manufacturers make incremental improvements and design changes to their product lines. Because of this, test labs need storage that is modular.
In recent years, RackSolutions has been developing just that. A modular shelf that fits in a standard server rack and can hold an efficient amount of mobile devices that test labs will be able to access.
Using a high quality 1U shelf, we designed a grid of connection points that work with a product line of device brackets. Some of the brackets are designed specifically for electronics with unique form factors while others are compatible with all smartphone or laptop form factors.
What devices can you mount on the modular rack shelf?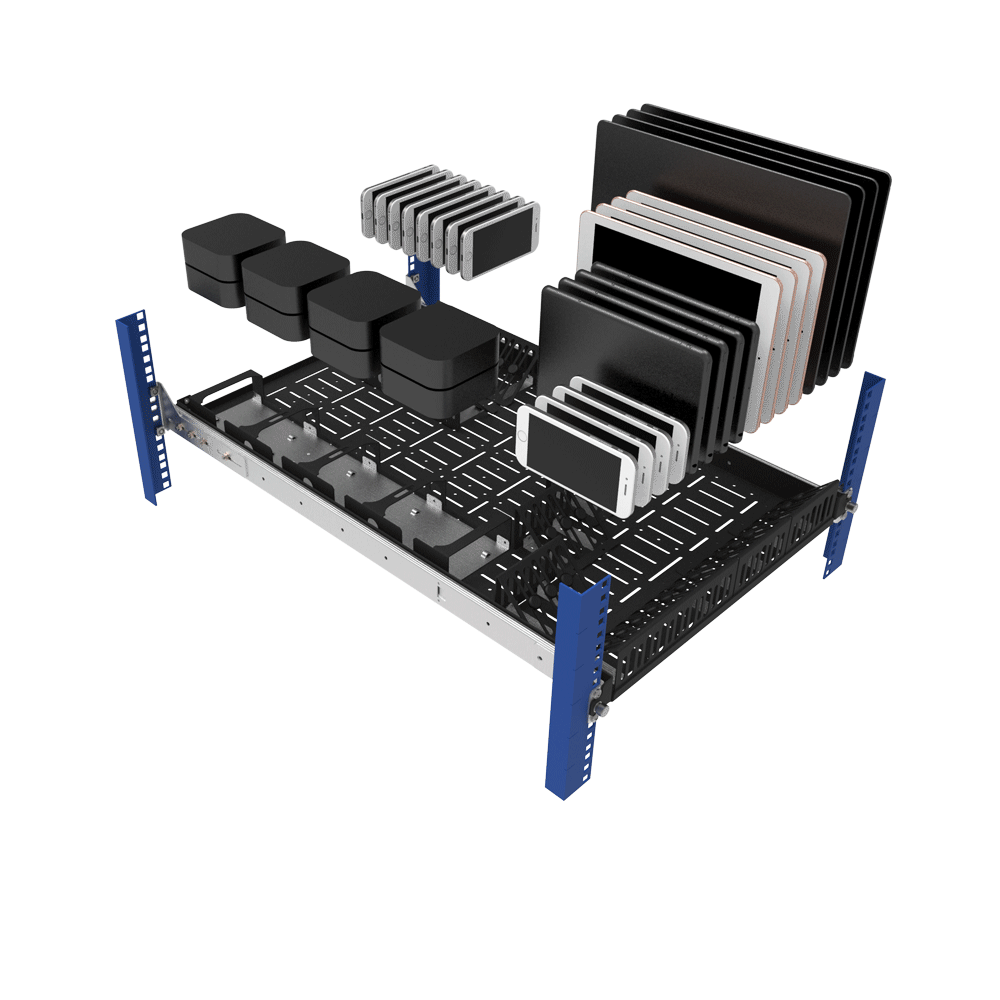 With just one of our brackets, you will be able to mount all smartphones and tablets. Another bracket will allow you to mount any laptop. With these two options alone, a majority of testing needs can be met.
Devices like the Apple TV, Homepod, Intel Nuc, Mac mini, and smartwatches need their own brackets because of their unique form factor. Still, you will have enough room on the modular shelf to mix and match these unique brackets to suit your testing needs.
This means that as long as there is room on the shelf, you will be able to store any of the devices that our brackets support.
So far, we offer support for the following devices:
Apple TV
Smartwatches
Intel Nuc
Laptops
Mac minis
Smartphones
Tablets
HomePods
Need even more customization?

Our goal in designing the Modular Rack Shelf was to focus on the products that our recurring customers need the most. Sometimes though, people who innovate need something completely different.
For 20 years, we've been working with industry leaders to make custom mounting products. We are able satisfy the most specific needs because we do everything in house from engineering to manufacturing and fulfillment.
Our prototypes ship ASAP and our engineers are readily available for feedback and to get to the bottom of exactly what you need.
If you are in need of a few products, or want to commission a long term project, get in touch.