Rack mounting a desktop PC in a server rack is an effective way to organize your workspace and reduce the risk of equipment damage. To efficiently rack mount your PCs, sliding shelves are a great way to service your non-rack mountable equipment in the fastest way possible.
Benefits Of Rack Mounting Your Desktop PC
By rack mounting your PC in a rack, you can optimize your workspace and increase accessibility. Rack mounting your computer is an efficient way to protect your hardware, organize cables, improve airflow, and reduce dust accumulation in your workspace.
Hardware Protection: Storing your PCs in a server rack and protecting your hardware from external damage is essential for any business environment. Instead of setting your PC on or under a desk, you can place the PC on a sliding shelf and into a server rack. This will help you prevent equipment damage from outside sources such as being knocked over or accidental spills.
Cable Management: Another problem for PC owners is cable management. The cords can be tangled and spread out over the desk. However, you can use hook-and-loop straps or zip-ties to bundle your cables together. Once your cables are organized, you can easily locate where the cables are plugged and prevent the cords from overlapping.
Airflow: When a PC is placed on a desk, the fans can be pushed against cube walls, which blocks the airflow and reduces cooling efficiency. Server racks are designed to facilitate proper airflow, so you can be sure that your equipment is safe from overheating.
Dust Accumulation: If you want a cleaner environment, it's crucial to watch out for dust accumulation, which is another contributing factor for overheating issues. By housing your PC in a server rack, you can prevent dust and debris from piling inside the computer.
To help you get started, our Sliding Equipment Shelf allows you to smoothly slide your desktop PC in and out of a rack, which makes maintenance and replacement easier. This is important for individuals that need to quickly access and remove equipment. By properly maintaining your equipment, your PC will continue to provide efficient power supply and reliability.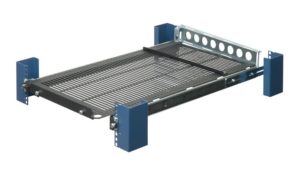 If you want to save additional U space on your rack, you can also use our universal rack rails to horizontally rack mount your equipment.
Mounting Depth
Before mounting your shelf, it's important to measure the rack mounting depth, which is the dimension from the front mounting post to the back mounting post. Most racks have adjustable mounting posts, so the depth can only be accurately determined by measuring it. By measuring the mounting depth, this will ensure that your shelf will fit inside the rack.
Horizontally Rack Mount a PC
Most desktop PCs are not designed to be converted into a rackmount server. Due to the design of the chassis, sliding rails kits are not an option. In most cases, the PC can be placed horizontally on a shelf if it does not exceed 17.7" in width, which is the opening of an EIA standard 19" rack. If you want to save additional U space on your rack, you can also use our universal rack rails to horizontally rack mount your equipment.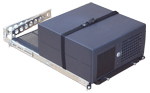 Vertically Rack Mount a PC
For desktop PCs that are wider than 17.7", another option is to place the PC upright on the shelf. In the image below, you can mount 2 PCs side by side on a single shelf if the overall width of both devices does not exceed 17.7". Keep in mind that not all PCs weigh the same, so you need to properly check the weight capacity before purchasing a rack mount shelf.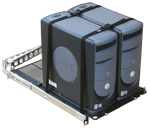 Things To Consider When Racking a PC
When purchasing a rack mount shelf, you need to consider if additional accessories are necessary for your installation. Additional accessories include:
Conversion bracket
Cable management arm
Front stop bracket
Transport strap
Anti-slip mat
Looking For More Ways To Organize Your Setup?
Other products that will be useful when mounting your PC can be found here:
If you have any questions about which product will work best for your needs, feel free to contact us. With our high-quality, in house manufacturing, we're happy to help you find the best solution for your desired setup!