The Data Center Tiers system helps compare the performance of one site infrastructure against another and aligns infrastructure investments to business goals. Tier 1 is the simplest infrastructure, while Tier 4 is the most complex and has the most redundant components. So how do the four tiers measure your data center capability and performance requirements?
What are Data Center Tiers used for?
Data center tiers are a helpful way to quickly communicate a number of details about data center facilities. Because they establish expectations in terms of cost, availability, and redundancy, they enable businesses to make decisions regarding how to best invest their resources without compromising performance.
Who Sets The Standard for Data Center Tiers?
Uptime Institute set the standard for data center tiers over 25 years ago and assigns these tiers to facilities based on a number of factors. Here are some of the following factors that the Uptime Institute considers:
Availability, redundancy, and uptime – The amount of time annually that a data center is expected to function and the processes in place to prevent downtime.
Efficiency and sustainability – How a data center uses its resources and the longevity it's expected to have as new technologies emerge.
Service Cost – The costs to run a data center.
Security Requirements – The security measures and procedures that are in place to protect the data center from data breaches and cyber security threats.
So what are the different data center tier levels?
Tier 1 Data Center (Basic Capacity)
Firstly, a Tier 1 data center is the basic capacity level with infrastructure to support information technology for an office setting and beyond. It has a single path for power and cooling and few, if any, redundant and backup components. Tier 1 has an expected uptime of 99.671% (28.8 hours of downtime annually). Requirements for a Tier 1 data center are:
Uninterruptible power supply (UPS) for power sags, outages, and spikes
Area for IT systems
Dedicated cooling equipment that runs outside office hours
Engine generator for power outages
Additionally, a Tier 1 data center protects against disruptions from human error, but doesn't protect from unexpected failure or outage. Redundant equipment includes chillers, pumps, UPS modules, and engine generators. For preventive maintenance and repairs, the Tier 1 facility will need to shut down completely. If the facility is not shut down properly, it increases the risk of unplanned disruptions and severe consequences from system failure.
Tier 2 Data Center (Redundant Capacity Components)
Second, a Tier 2 data center has a single path for power and cooling, along with some redundant and backup components. Tier 2 has an expected uptime of 99.741% (22 hours of downtime annually). In general, it provides better maintenance opportunities and safety against disruptions.
Redundant capacity components include: engine generators, energy storage, chillers, cooling units, UPS modules, pumps, heat rejection equipment, fuel tanks, and fuel cells. Furthermore, the distribution path of a Tier 2 facility serves a critical environment, and the components can be removed without shutting it down. Similar to a Tier I facility, unexpected shutdown of a Tier 2 data center will affect the system.
Tier 3 Data Center (Comprehensive Redundancy)
Third, a Tier 3 data center has multiple paths for power and cooling and systems in place to update and maintain it without taking it offline. Tier 3 has an expected uptime of 99.982% (1.6 hours of downtime annually).
Overall, this tier is simultaneously maintainable with redundant components as a key differentiator, with redundant distribution paths to serve the critical environment. In comparison to Tier 1 and Tier 2, a Tier 3 data center doesn't require a shutdown when equipment needs maintenance or replacement. The components are the same as Tier 2, so any part can ultimately shut down without impacting the operation.
Tier 4 Data Center (Fault Tolerant)
Lastly, a Tier 4 data center is built to be completely fault tolerant and has redundancy for every component. Tier 4 has an expected uptime of 99.995% (26.3 minutes of downtime annually). It has multiple independent and physically isolated systems that act as redundant capacity components and distribution paths. To prevent an event from compromising both systems, isolation is necessary.
Even more so, the environment won't be affected by a distribution from planned or unplanned events. If the redundant component or distribution paths are shut down for maintenance, then the environment could experience a higher risk of distribution if a failure occurs.
Selecting The Right Data Center Tier
The right data center tier will mainly depend on your business, especially regarding the cost and uptime. Even though a Tier 4 data center is more reliable and fault tolerant than a Tier 1 data center, this doesn't mean that it is always suited for every business's needs. Each tier will fit different business needs, so sometimes a Tiers 3 or 4 can be over-investment. Ultimately, there are different types of companies that typically lean towards specific tiers.
Tier 1 – ideal for small businesses and start-ups looking for an affordable hosting option. Small firms without complex IT requirements or around-the-clock operations can tolerate more frequent downtime.
Tier 2 – ideal for small businesses that want a cost-effective and more reliable option than Tier 1. In most cases, small to medium-sized firms use tier 2 facilities, often to host data backups or non-mission-critical databases.
Tier 3 – ideal for large companies with IT operations that need extra fail-safes. Businesses that host extensive data sets, such as customer data, are especially suitable for this tier.
Tier 4 – ideal for businesses that do not have budget constraints that require uninterrupted availability. Government organizations and large enterprises with mission-critical servers and intense customer or business demands are suited for a tier 4.
Mounting Equipment for Your Data Center
To help manage your servers and IT equipment, we provide a wide range of server racks, rack shelves, server rack rails, and rack accessories that you can select from for your data center.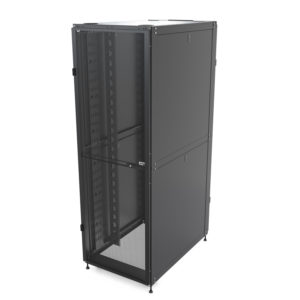 Rack Shelves: We provide rack shelves that come in different sizes and configurations to serve a wide variety of needs. To store your servers on the rack, you can choose between our fixed shelf or sliding shelf.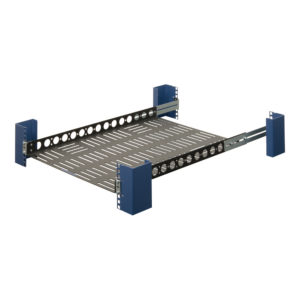 Rack Rails: Server rack rails are a great way to mount your servers in a 4 post or 2 post rack. We provide a large selection of rails, rail kits, and universal rails for many OEM servers, including those made by Dell, HP, IBM, Supermicro and others.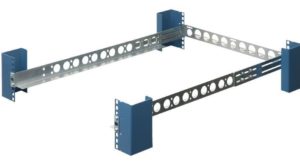 Rack Accessories: Looking for the rack accessories that will help you finish the job? From cage nuts to KVM mounts, you are sure to find something that will improve your setup.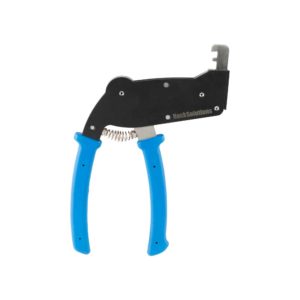 If you have any questions about our products, feel free to contact us for more information. With our high-quality, in house manufacturing, you can be confident that you are buying the best equipment possible for your data center!

FAQs: Data Center Tiers
What are some additional factors that are considered for data center tier classification?
Additional factors that the Uptime Institute considers are: cooling and power infrastructure, staff expertise and maintenance protocols, and operational sustainability.
What is the Tier Standard Approach?
The Uptime Tier Standard establishes a consistent set of performance criteria that can be satisfied, and adjudicated worldwide. This performance-based approach is flexible to changes in the industry. The Tier Standard Approach is globally recognized, technology neutral, performance based, vendor agnostic, flexible, and certifiable. You can learn more about the six characteristics here to identify how the Tier Standard differs from other standards in the industry.