Any organization with that uses IT equipment can benefit from a data center rack. A data center rack safely stores servers and other large electronics in an organized manner that ensures an acceptable intake temperature. Racks are a means of containment that keeps IT equipment cool for optimal functionality, protection and improved energy savings.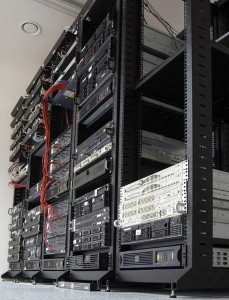 Data center racks really are the basic building block for every IT space. They come in all different heights, depths and widths. Some have tool-less accessories and varying door options that allow them to be adjusted to fit the needs of specific sites. Some data center racks have self-contained air conditioning, wiring management and lockable doors and panels. So aside from maximizing energy use and keeping valuable equipment cool, they also protect the machinery from spills, knock downs and theft.
Data center racks have revolutionized IT facilities by separating cold supply from the hot exhaust air emitted by equipment. The result is a stable air temperature to the intake of IT devices as well as a dry and warmer return air toward the AC coil. Data center racks are commonly organized in a hot aisle cold aisle containment manner that reduces energy use and improves equipment performance. Since there won't be hot spots, equipment uptime will no longer be threatened. This also boosts air efficiency, creates energy savings, increases rack population and elongates hardware life.
Data center racks typically have openings for cables to freely enter and exit this protective barrier. It is ideal to include an extra 8 to 10 inches of cable to ensure that it they are not stretched and unnecessarily pressured. Don't deal with congested cabling that gets tangled and creates a mess.
Proper cable management techniques along with extra inches will allow you to connect equipment at a greater distance while still leaving ample room to spare. This facilitates cable organization and protects their integrity. It is also ideal to use 3000 lb. castors to preload IT equipment when moving them inside of the data center. This will guarantee that there is ample support beneath your servers and other heavy machinery so that they can be transported with ease and unparalleled safety.