There are many situations where mounting a PC and/or monitor to a wall is a good idea. While both PCs and monitors are far lighter than they were in the past, they still have some heft to them, so it is important that you choose the right type of wall mount. Dell wall mounts are an excellent option that will work on all Dell makes and models.
Types of Dell Wall Mounts
Even if you've never considered mounting your PC or monitor to a wall before, it may be a great option. There are multiple different types of Dell wall mounts available, so there is almost certainly one that will help meet your needs. The general types of mounts are:
• Dell Monitor Wall Mount – Monitor wall-mounts make it safe and easy to have a monitor anywhere you need it, without taking up valuable desk space.
• Dell PC & Monitor Wall Mount – You can place both the physical PC, and the monitor securely on the wall. This is great for businesses that want to display information to their customers, or anyone who wants to have lots of free space on their desk.
• Extendable Wall Mount – Durable Dell wall mounts that have an extension arm so you can move your monitor anywhere it needs to be. Great for watching videos, or adjustable work-spaces.
• Tilting Wall Mounts – Wall mounts that can easily tilt up and down for improved visibility are a great option in many environments.
Situations Where Dell Wall Mounts Work
There are plenty of situations where a Dell wall mount is a great solution. Many people don't even realize that these types of things exist, so they don't think about the types of problems that a wall mount could solve. The following are great examples of where a Dell wall mount can be helpful:
• Business Marketing – Having a PC & monitor mounted to a wall in a business environment allows you to display marketing information to customers. This is great for places where customers wait in lines such as banks, doctor's offices, dental offices, and more.
• Clear Desk Space – Don't take up all the desk space with your PC or monitor. Having them positioned up on the wall not only gives you more room at your desk, but keeps the area looking cleaner, and can even ensure the monitor is positioned properly for easy visibility.
• Monitoring Stations – Security guards, IT monitoring professionals, and others who need to have multiple visible monitors to keep an eye on different types of areas can benefit from mounting all their Dell monitors up on the wall.
• Entertainment Centers – Having a PC run an entertainment center, and a monitor serving as a TV is becoming quite popular. The right Dell wall mount can help make this possible.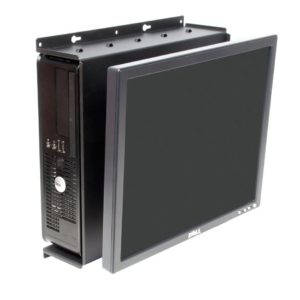 Easy & Safe Installation
One of the best things about Dell wall mounts is that they are designed to make it fast and easy for anyone to install them properly. You typically won't need to hire a professional to come in and do the job, which can save you a lot of time and money. In addition, Dell wall mounts are made with high quality materials to ensure they can securely hold PCs, monitors, or both.
Contact Rack Solutions
RackSolutions is a Dell Technology Partner. If you need help finding the right Dell wall mount based on the model of your PC or monitor, we can help. RackSolutions can talk to you about things like where you are looking to hang the mount, how to secure it in place, and how to properly attach your PC or monitor. We are here to help you with whatever you need for your Dell wall mounts.