A KVM (which stands for Keyboard, Video, Mouse) switch is a hardware device that allows server administration to control multiple computers from a single keyboard, video display monitor, and mouse (KVM). A KVM system allows for management, monitoring, and control of an Enterprise Environment from a central location. This device is particularly useful in data centers that have multiple servers and computers in a single server rack.
Data Center personnel can quickly connect to any server in the rack through a KVM switch allowing them to control multiple computers from a single KVM device. They also allow you to switch audio and USB devices (printers for example) between the different computers.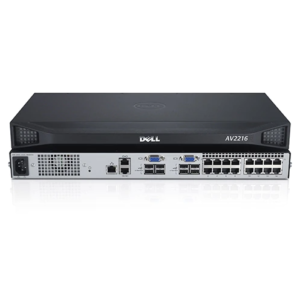 Types of KVM Switches
Machines in close proximity to a KVM switch can be directly connected. Machines can also be connected over a network using KVM over IP. This method allows for administration of a Global Enterprise Environment over the company's private network. Control of different computers is switched by a button, On-Screen Display (OSD) controls found on a console screen, switch keys, or hot keys.
There are several types of KVM switches, including:
Standard Box Switches
Cable KVM Switches
Multi-Monitor KVM Switches
IP KVM Switches
When you purchase a KVM switch, your choice should be based off the number of computers you are wanting to control. KVM switches can range from 2 to 32 ports for standard box switches. Anything beyond 32 ports requires specialized equipment. Order Your KVM Today!