The most convenient place to keep monitors and keyboards for your IT equipment is right inside of your server rack. Unfortunately, the nice QHD ultrawide monitor that you might be used to is incapable of fitting.
Similarly, a server rack shelf might not always allow for a comfortable width to use a full sized keyboard and mouse. No worries though, there are plenty of products on the market to make for a high quality and comfortable experience for the input and output of your devices.
Best monitors for server racks
Before widescreen monitors became the norm, you could find more variants of monitors that fit into server racks. Nowadays, if a monitor fits into a server rack, it was likely designed to do so.
That being said, you can look on Amazon for monitors with less than a 19 inch width, but it might not be as easy to install as one intended for racks. Monitors specifically designed for racks will be the easiest to mount and come in a few different variants.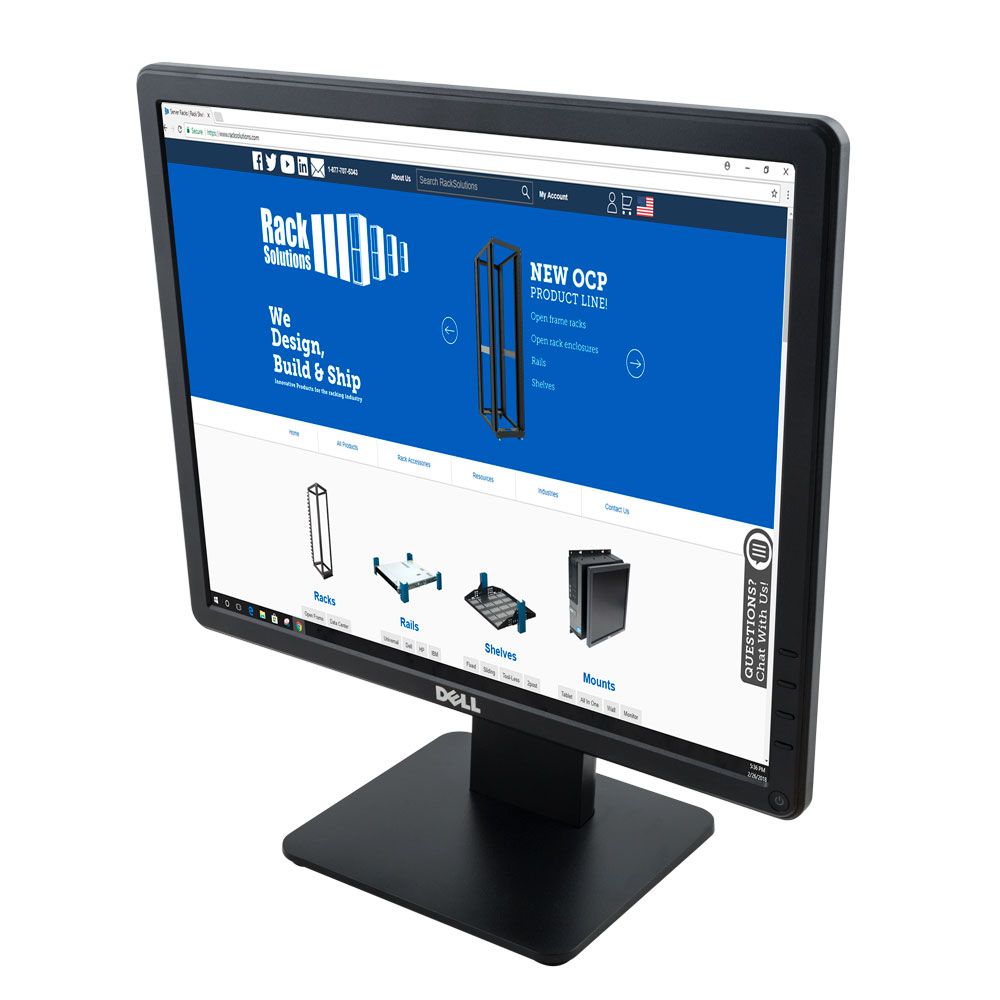 We have partnered with Dell on many projects for many years and have always loved the quality of their monitors. This is why on our site, we offer classic Dell 17" and 19" Monitors that fit perfectly inside of a server rack.
Not only is it the right size, but Dell doesn't cut corners when it comes to color accuracy or brightness. All you'll need to do is mount it onto a Universal Rack Mount Monitor Bracket or RackMount KVM shelf and it will make for a great solution to your video output needs.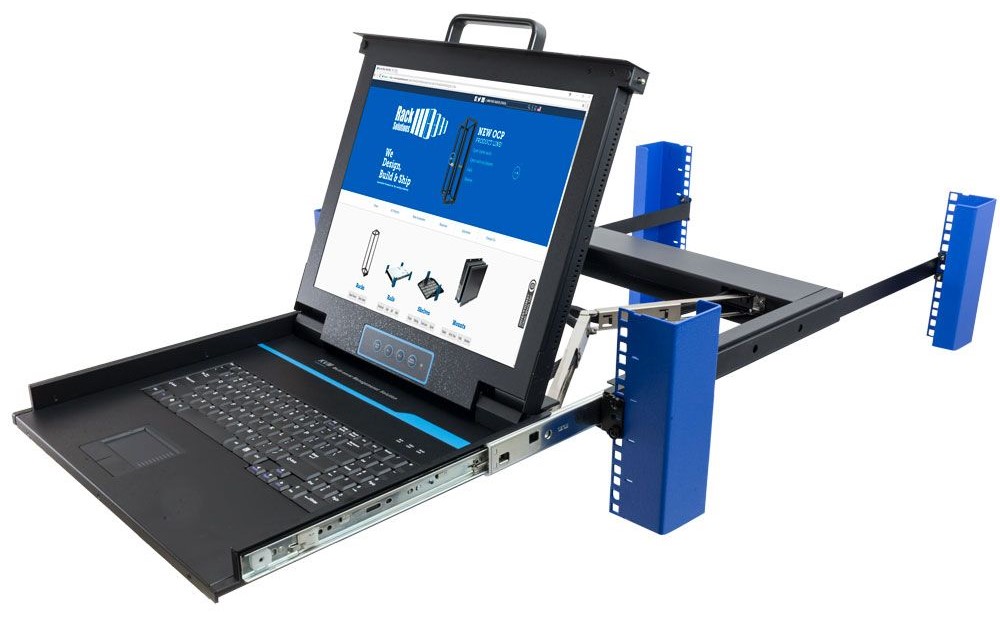 If you want the thinnest, most compact, all-in-one solution for your KVM needs, look no further than a 1U KVM 1 Port Console.
It's basically a laptop without any of the computing hardware. Instead, you get a slim monitor, keyboard and trackpad that folds up and slides into a rack. In terms of installation, this is the simplest route to go.
Expense on the other hand is a different story. Because this is a custom solution for a niche demographic, you'll end up paying a premium for the convenience and extra design that went into it. Still, there's no other way to get a full sized mechanical keyboard, trackpad and monitor into a thin, uniform chassis.

Last, there is a solution more tailored for 'monitoring' than for interacting with. A Flush Mount Rack Monitor takes up about 7 rack units, making it much less appealing for those who have rack filled to the brim. At the same time, if used intelligently, it can help manage airflow in a rack that isn't fully utilized.
It's pretty simple to use. Just find a monitor that fits into the bracket, attach it like you would any other rack mounted equipment and lock in the monitor with the vesa mount in the back. The system allows for a secure fit and even overlaps the monitor bezels for a clean appearance.
Best keyboard and mouse setups for a server rack
Before you figure out your keyboard and mouse setup, you'll need a tray. It's practical to use anything from a fancy Sliding Keyboard Tray to a simpler 2 Post Rack Shelf.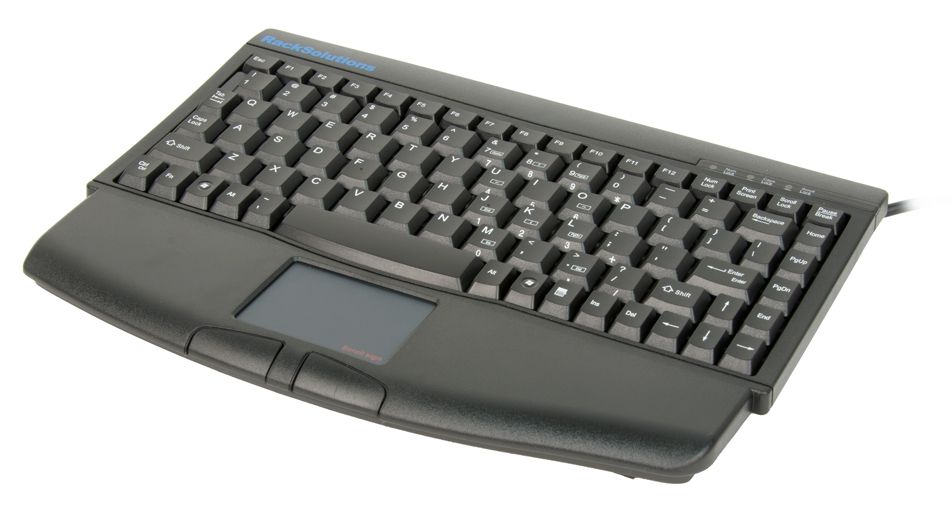 We know that space can get tight in a server room which is why we designed a TKL keyboard with a trackpad built in. At only 11 inches wide it allows you to operate with minimal space.
The keyboard does not include a number pad, but keys important to programmers, like the special keys and cursor/arrow keys still fit into the small form factor. It also comes with both USB and PS/2 connections to maintain compatibility with older KVM switches.
Because system admins don't always have the luxury of space, trackball mice can be ideal in a server rack. It allows for more accurate control than you will get with most external trackpads while maintaining a mechanical scroll wheel and additional programmable buttons.
The Logitech M570 is the most popular trackball mouse within an average price range.
Alternatively, the Kensington Expert Wireless Trackball Mouse takes an unconventional approach at an increased price. Even though it is about $30 more expensive than the Logitech mouse, it has thousands of more positive reviews.
They both will work great for navigating screens in a rack because you will never have to move them, or your hand. It really comes down to preference of form factor and design quality.
TKL (tenkeyless) keyboards have become fashionable lately as professional video gamers need more space for their mice. Thankfully, this leaves you with many options as they are also ideal for the allotted width of a server rack.
It really doesn't matter which TKL keyboard you get, but here are a few of the popular brands in different price ranges.
Logitech G Pro Keyboard ($129.99) – While this keyboard is designed for gamers, it is fully programmable, has high quality mechanical switches and RGB backlighting that you can either set to a single color or turn off completely.
TypeMan CD87 ($76.99) – This keyboard has no gimmicks, but still gives a high quality typing experience. There is no backlighting, no extra software functionality but they are designed with Cherry MX switches.
Penclic C3 Office Wired Ergonomic Keyboard ($59.99) – If you don't care about mechanical keys, this is a very simple and straightforward TKL keyboard that will easily fit in a small space.
Unfortunately, it's difficult to find a sub $50 TKL keyboard that isn't tailored to children or teenagers. Most keyboards in this range have lower quality parts, excessive RGB lighting and branding that is blatantly tailored for gamers.