When installing any type of computer equipment, it's important to ensure the cables are run properly and kept safe. Even when working with something as simple as a PC, there are a lot of different cables. Some of these cables include those for power, monitors, network, keyboard, mouse, and more. In a data center, there can be many miles of cables connecting everything together. A good horizontal rack cable management strategy not only helps keep things neat and organized, but it also prevents any damage to the cables and makes troubleshooting problems much easier. In many situations, a horizontal cable management system is the best place to start.
What is Horizontal Rack Cable Management?
In a horizontal cable management strategy, all the cables within a rack will run to one location (typically either at the top, bottom, or center of the rack) where you can bundle them together. This location will have some type of cable management tool that is horizontal inside the rack. Each cable will enter this device, neatly joining with other cables to continue run to the sides of the rack.
This is a good strategy because it allows similar cables to run together, making troubleshooting more efficient. There are quite a few different ways to establish a horizontal cable management strategy:
Keep Similar Cables Together – In some situations, it's best to bundle cables together based on the type of cable. This means having all cat-5 cables together, all fiber optic cables together, etc.
Keep Cables for Related Systems Together – When multiple servers or other equipment are housed together, it makes sense to keep these cables bundled together so it's easier to perform maintenance.
Bundle Cables Based on Destination – One of the most common options is to bundle cables based on their end destination. If some cables are going to run to a centralized switch on one side of the data center, and other cables will go to another nearby rack, you can put two bundles together.
Of course, every data center manager will have to come up with their own strategy. Managing the cables within a rack is just the first step of an overall strategy. It is, however, one of the most important steps. If you don't properly organize cables within a server rack, it will cause a lot of potential problems.
How to Horizontally Manage Your Cables
Horizontal cable management is a relatively easy concept to understand, but it can be difficult to implement. The important thing is to make sure you follow the strategy with every cable. If you make exceptions, it can quickly cause things to become disorganized. Once you have a plan on where the cables need to end up, it's time to start running them in the server racks and then out to their eventual destination. The following are the basic steps to follow when attempting to horizontally manage your cables: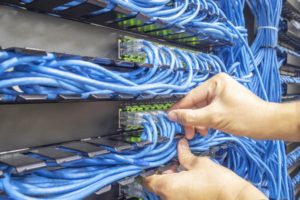 Proper Length of Cables – Cables should be only as long as necessary to get them to their destination without being too tight. Keeping cables snug, especially within server racks, will ensure they don't get snagged or tangled.
Run Cables from Equipment to Horizontal Cable Device – Running a cable from the computer equipment to a horizontal cable management device is very important. This is where the cables will initially be bundled and then start getting run out of the rack itself. If you need help, watch this video from FS.com.
Keep Cables Bundled – As the cables exit the server rack, it's important to keep them bundled properly. You can do this with zip ties, hook-and-loops, rubber bands, or other items.
Secure Cables Along Path – In most cases, cables will run under a raised floor or up in the ceiling. Either way, the cables must be secured in place and supported along the way so they don't get tangled or have excessive pressure points that could damage them.
Run Cable to Destination Device – When a bundle of cables arrives at the destination location, the cable should be kept snug. If the destination is in a rack, the cables should run in the same direction as in the original rack.
Server Rack Horizontal Cable Management
There are a variety of different tools and equipment that can help with a horizontal cable management strategy. A good horizontal cable manager is the first item to use in a server rack. These will allow cables to be run to one location and secured in place using D-Rings or other support options. As the cables move through the server rack, and along the rest of the path that is taken, they will need to be kept together using zip ties or something similar.