Server racks being right below a desk where monitors and keyboards are just makes sense. If you have a home setup, everything you're using will likely need to be confined to one room and a desk is the most convenient location to connect and control a server.
As long as you can bear the noise of the equipment running right beside you, we have a few great solutions for your under-the-desk needs.
What dimensions should you be concerned about?
Before looking at your options, you should be aware of how tall your desk is, and the potential sacrifice in leg room that you will be making.
Most desks are 30" tall which will comfortably fit about 14 rack units depending on the rack's bulk. This is pretty significant space for a home environment, considering that you could fit 14 1U servers. Smaller operations will not utilize this entire space.
Our thinnest server rack takes up about 24" in width. According to dimensions.com, an average desk will be about 60" in width, like this one on Amazon. If half of your leg room is taken up and you are forced to the corner of a desk, you might end up having to reduce the amount of monitors you are using or generally be put in a less comfortable situation.
We would recommend that your desk is either longer than 60" or is L shaped, allowing room to manage more equipment.
Lastly, the depth of your desk. Your typical rack will need about 30" of clearance in order to sit flush underneath your desk. Though, there are some desks that can rise up to 48″ which is essential for the taller racks on this list.
Still, compared to height and width restrictions, depth isn't as much of a deal breaker. As long as the rack doesn't stick too far out of your desk, the top of your rack could be utilized for extra space.
Without further adieu, here are our top picks for server racks that would fit nicely underneath a desk.
Open Frame Server Racks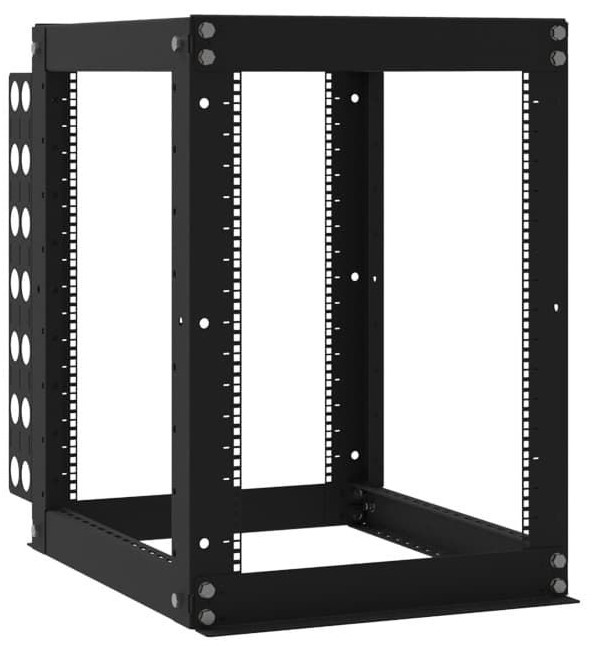 Desk height requirement: 16U – 34.25″ / 5U – 15″
On our Open Frame Server Racks page, you can customize the rack that is used in many data centers to fit nicely under your desk. We offer configurations for depth, height and a variety of accessories that can help with sound and airflow.
Here are a few configurations that would be ideal for an under-the-desk setup:
5U height / 28" depth – $269
16U height / 28" depth – $379
The advantage of this rack in particular is that you gain access to the proprietary accessories that are utilized by data centers. This includes power strip mounting brackets, baying kits, air dams, rack tops, side panels and cable organizers. While not all will be useful in a small space, it leaves room for expansion in the future.
16U Office Cabinet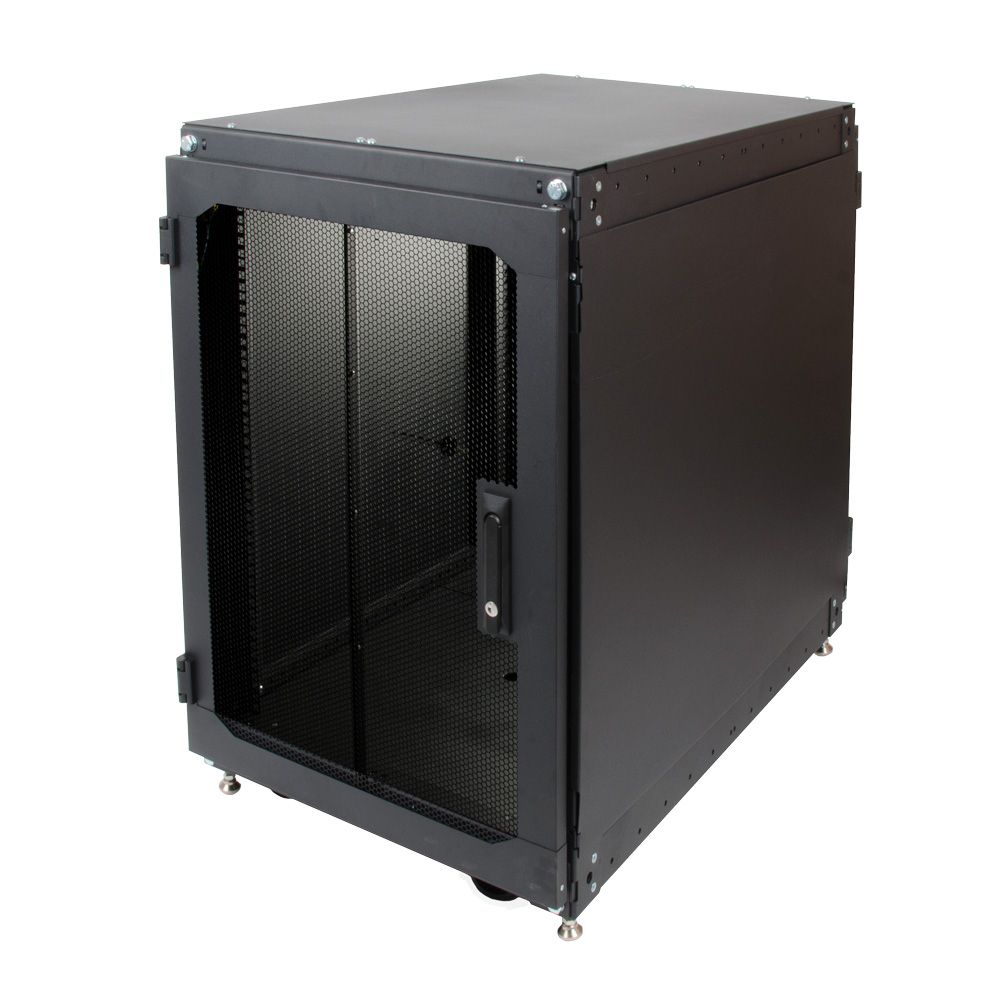 Desk height requirement: 36.6″
Our Office Cabinet is a classy solution that provides security, mobility and high quality rack features in a discrete package. It offers less customization than the open frame rack but comes with everything that an office environment would need.
Security in particular is a focus on this rack because if your rack isn't in a dedicated server room, then it is likely more prone to unwarranted access. You can choose between a combination or key lock to protect your equipment from any bad actors.
12U Portable Server Rack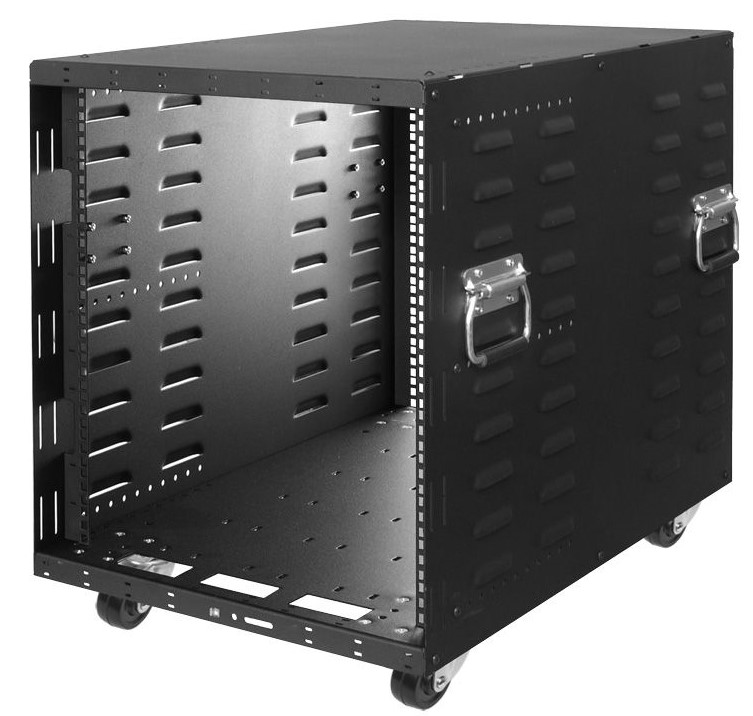 Desk height requirement: 25.1″
The 12U Portable Server Rack strikes a nice balance between price, size and features when it comes to racks that will fit under the desk.
While this one isn't locked, there are front and rear covers available that will be enough to prevent accidental damage from yourself or others in your area. It also comes with casters so that you can easily move the rack around without disassembly.
With a minimal width, adjustable 19"-29" depth and rack top that you can place things on top of, it's exactly what someone in a small space might be looking for.
Wall Mount Racks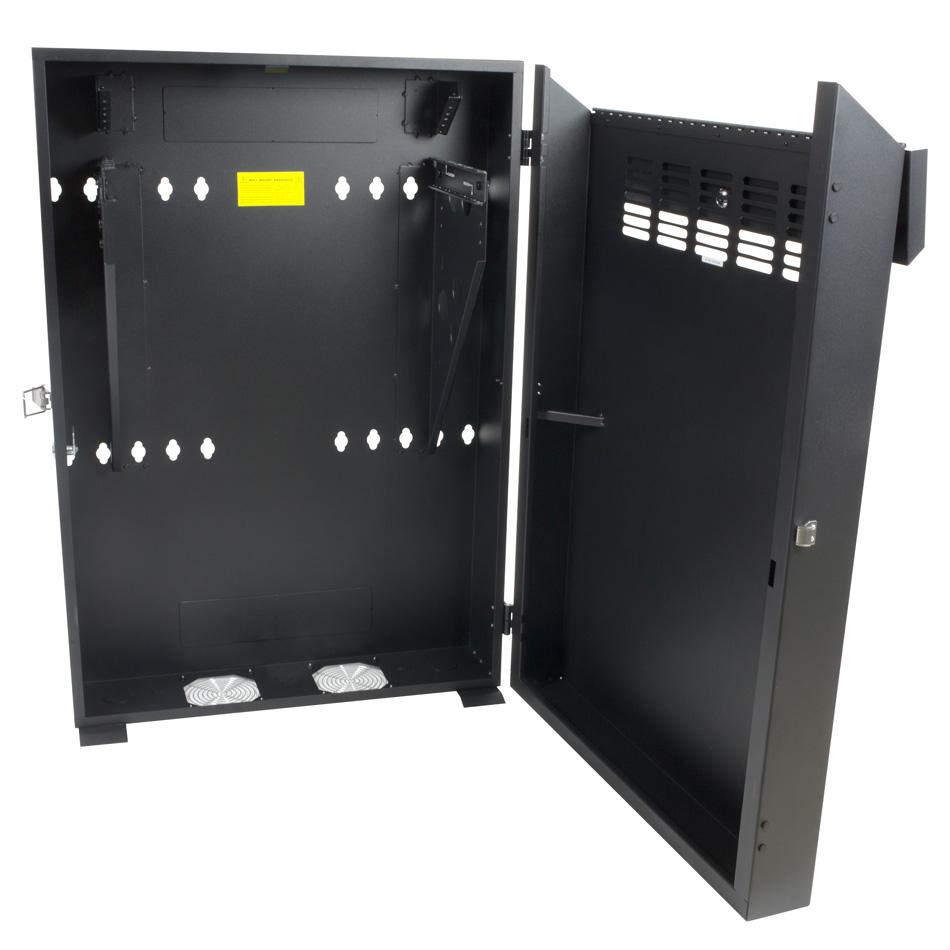 Desk height requirement: 37″
While they're a bit more complicated to install, wall mount racks can provide some serious advantages in a small area. If your desk sits next to a wall, then you can wall mount a rack underneath your desk which allows and maintains much more room than if you were to use a full sized rack.
This is because most wall mount racks are installed in a vertical orientation. We carry two types of these products. One is enclosed and the other is open.
The enclosed rack can mount up to 5U of equipment and comes with a lock, ventilation system and exit for cables.
The open rack brackets mount up to 4U of equipment in a minimalistic and completely open manner.