Have you ever been interested in custom bezels for your servers? We provide made-to-order designs on several Dell servers, but full customization for any server is also available. Let us brand your servers, choose from 11 colors, 4 hole patterns, and badge location options. Constructed from high-quality steel, the end caps and locks are the exact same as used on Dell factory bezels.
Custom bezels are a great way to enhance your data center for a clean, branded look. Our bezels are specially made to the same dimensional standards as Dell factory bezels, ensuring quality fit and server compatibility. All of our bezels are made from steel and manufactured on a state-of-the-art Amada turret laser. Your bezels will arrive fully assembled* and ready to install on your servers.
*Badges are purchased and installed separately.
What is a Front Bezel
A bezel is an outer frame around an object or device. For data centers, the bezel attaches to the front side of a server as a cover. The purpose of a server bezel is to provide an extra layer of security for your server, along with covering buttons and protecting hard drives from removal or damage.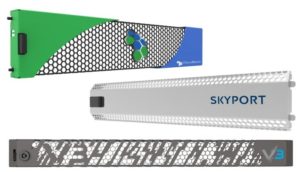 Where to start on your Custom Bezel
All you have to do is decide 3 things: color, hole pattern, and badge location. First, let's start with color.
Color
We provide 11 colors as a standard offering but have color matching options for an additional fee. Each bezel is powder coated with cardinal paint that is tough, scratch-resistant, fade-resistant, and durable.
What is powder coating?
Powder coating is a painting process that produces a highly wear-resistant color coating with gloss or matte finish. Powder coating involves applying electro-statically charged dry powder to the steel bezel. After the coating is applied, the bezel is heated so that the powder melts evenly to flow over and fuses itself to the steel, forming a thin protective film on the material.
Hole Pattern
We offer 4 different hole pattern options: round holes, square holes, hexagon holes, and diamond holes. Check out the examples in our Bezel Design Guide to see which pattern matches your branding the best.
Badges
Badges are a great way to showcase your company logo, and we have unlimited options available. We provide 6 different style options of Urethane "bubble badges" and multiple options for placement. For your reference, our Bezel Design Guide will help you determine your specific placement needs.
We strongly recommend that you work directly with Marking Systems, Inc. for a decal design and procurement. They offer a 24-48 hour prototyping process and a reasonable minimum requirement for orders. Most customers apply the decal themselves, allowing multiple decals sets and model changes without affecting the bezel procurement process. If needed, we can apply the decals for a nominal fee.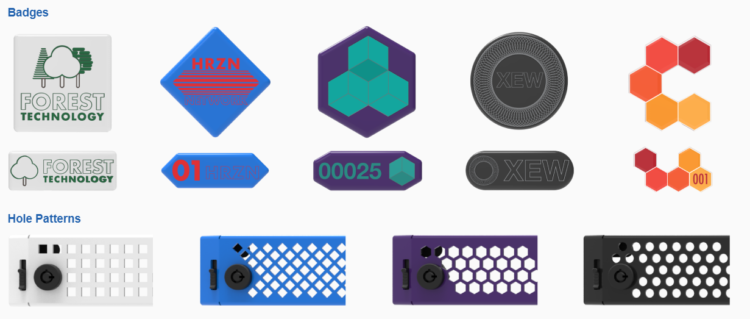 Customization Levels
We offer 3 standard levels of customization with different costs and lead times. A minimum order quantity of 50 is required if the design is from our catalog. Any additional level of customization will require a minimum order quantity of 100. If you need something with more customization than you see below, we're open to discussing details.
Level One: Standard Dell with Standard Color
5 Standard Colors (gloss white, black texture, gloss blue, gloss red, gloss black)
Minimum order quantity of 50
Discounts available for larger quantities
5 week lead time
Level Two: Standard Dell with Premium Color
6 Premium Colors (gloss gray 034, gloss gray 035, gloss orange, gloss blue, gloss yellow, gloss green)
Minimum Order Quantity of 50
Discounts available for larger quantities
6 week lead time
Additional cost for premium paint
Level Three: Full Customization for Any Server
Unlimited colors available, just provide us with a Pantone number
Custom silkscreens available
Minimum order quantity of 100
Call for a custom quote
For more information, you can email us at info@racksolutions.com, chat with us on the website, or call RackSolutions sales at 1-888-505-7225. We are happy to provide you with multiple bezel options so that you can get your desired design!