When you're installing a 19" rack cabinet or enclosure, it's important to determine how much rack space is required for your equipment. By calculating the rack units, you can make sure that the dimensions of your network equipment will fit inside a server rack. For individuals that need exact measurements, a rack unit converter will help you translate rack units to inches/feet/and centimeter values.
What is a Rack Unit or "U"?
A rack unit is a standard EIA term for measuring the overall height in a server rack. The hole spacing for EIA 19" standard racks on the mounting flange is spaced in groups of three holes. This three hole grouping is known as a rack unit (RU) or "U".
How Many Inches is 1U?
One rack unit (1U) occupies 1.75″ (44.45 mm) of vertical space. This unit of measurement is used for racks, servers, rails, shelves, and more. Manufacturers of rack mount equipment design their products based on how many RUs that the equipment occupies in the server rack, which is specified as 1U, 2U, 3U, and so on.
Rack Unit Spacing
In the image below, you can see how 1U equals 1.75" with a three hole grouping. These holes are placed in a vertical orientation and are used to secure mounting equipment to the rack. The total rack unit is measured from the middle of the rack's top hole of the previous U space to the top hole of the current U space. Even though the spacing between the holes is 0.625", the remaining 0.5" comes from the distance between the bottom hole to the top hole of a RU.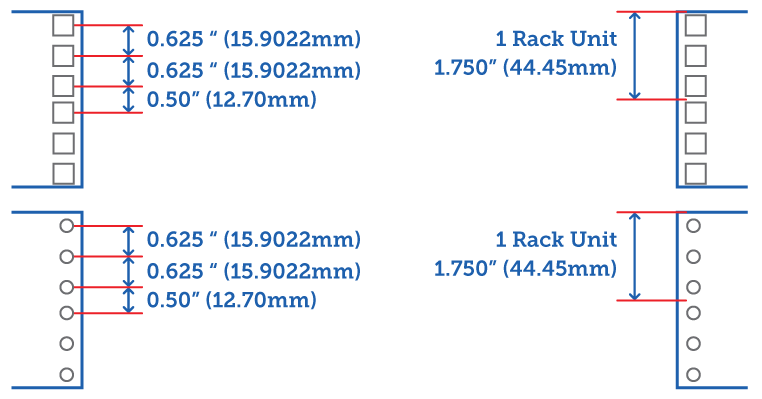 How Do You Calculate Rack Units?
The rack unit conversion grid features different measurements for rack units between 1U-48U. Each rack unit is converted into inches, feet, and centimeters. When utilizing the unit conversions, it's important to know that rack units are considered maximum dimensions for rack mount equipment. In some cases, the equipment dimensions may be smaller than the specified RU. A rack server (such as the HPE Proliant DL120 Gen 9) may be specified as 1U, but the actual height is 1.69". If the height does not exceed 1.75", then the server is still considered 1U.
Rack Unit Conversion Grid
| | | | |
| --- | --- | --- | --- |
| Rack Units | Height (in) | Height (ft) | Height (cm) |
| 1U | 1.75″ | 0.15′ | 4.4 cm |
| 2U | 3.5″ | 0.29′ | 8.9 cm |
| 3U | 5.25″ | 0.44′ | 13.3 cm |
| 4U | 7″ | 0.58′ | 17.8 cm |
| 5U | 8.75″ | 0.73′ | 22.2 cm |
| 6U | 10.5″ | 0.88′ | 26.7 cm |
| 7U | 12.25″ | 1.02′ | 31.1 cm |
| 8U | 14″ | 1.17′ | 35.6 cm |
| 9U | 15.75″ | 1.31′ | 40 cm |
| 10U | 17.5″ | 1.46′ | 44.5 cm |
| 11U | 19.25″ | 1.6′ | 48.9 cm |
| 12U | 21″ | 1.75′ | 53.3 cm |
| 13U | 22.75″ | 1.9′ | 57.8 cm |
| 14U | 24.5″ | 2.04′ | 62.2 cm |
| 15U | 26.25″ | 2.19′ | 66.7 cm |
| 16U | 28″ | 2.33′ | 71.1 cm |
| 17U | 29.75″ | 2.48′ | 75.6 cm |
| 18U | 31.5″ | 2.63′ | 80 cm |
| 19U | 33.25″ | 2.77′ | 84.5 cm |
| 20U | 35″ | 2.92′ | 88.9 cm |
| 21U | 36.75″ | 3.06′ | 93.3 cm |
| 22U | 38.5″ | 3.21′ | 97.8 cm |
| 23U | 40.25″ | 3.35′ | 102.2 cm |
| 24U | 42″ | 3.5′ | 106.7 cm |
| 25U | 43.75″ | 3.65′ | 111.1 cm |
| 26U | 45.5″ | 3.79′ | 115.6 cm |
| 27U | 47.25″ | 3.94′ | 120 cm |
| 28U | 49″ | 4.08′ | 124.5 cm |
| 29U | 50.75″ | 4.23′ | 128.9 cm |
| 30U | 52.5″ | 4.38′ | 133.4 cm |
| 31U | 54.25″ | 4.52′ | 137.8 cm |
| 32U | 56″ | 4.67′ | 142.2 cm |
| 33U | 57.75″ | 4.81′ | 146.7 cm |
| 34U | 59.5″ | 4.96′ | 151.1 cm |
| 35U | 61.25″ | 5.1′ | 155.6 cm |
| 36U | 63″ | 5.25′ | 160 cm |
| 37U | 64.75″ | 5.4′ | 164.5 cm |
| 38U | 66.5″ | 5.54′ | 168.9 cm |
| 39U | 68.25″ | 5.69′ | 173.4 cm |
| 40U | 70″ | 5.83′ | 177.8 cm |
| 41U | 71.75″ | 5.98′ | 182.2 cm |
| 42U | 73.5″ | 6.13′ | 186.7 cm |
| 43U | 75.25″ | 6.27′ | 191.1 cm |
| 44U | 77″ | 6.42′ | 195.6 cm |
| 45U | 78.75″ | 6.56′ | 200 cm |
| 46U | 80.5″ | 6.71′ | 204.5 cm |
| 47U | 82.25″ | 6.85′ | 208.9 cm |
| 48U | 84″ | 7′ | 213.4 cm |