Open frame server racks allow for easy access to IT equipment and cabling. If you need easy accessibility for maintenance and unobstructed airflow for equipment cooling, then open frame racks are a cost effective option that provides an easy solution to control and monitor rack-mount equipment.
Benefits of Open Frame Server Racks
Open frame racks are a great option for companies looking to keep their network equipment in one area without breaking their budget. The following are some of the most significant benefits of open frame racks:
Cost: Compared to enclosed server rack cabinets, the cost of producing and shipping open frame server racks is lower. For companies that need a cost-effective solution to manage IT equipment, open frame racks are ideal.

Airflow: Server equipment generates a lot of heat, so you need a proper cooling environment for optimal airflow. Open frame racks don't have any obstruction with airflow, which increases the air circulation and improves the cooling of your IT equipment. Because the airflow isn't restricted, you can be sure that your equipment will not overheat.

Accessibility: The open sides of the rack can be useful when installing and removing the equipment for maintenance. You will be able to immediately access equipment and cabling, so working on servers and other equipment will be easier since there are no doors or side panels in the way.

Cable Management: Cable management can be tough to manage if all your cables are tangled within an enclosed cabinet. Open frame racks allow you to easily route and organize cables without any obstacles from doors or side panels. To protect your cables, you can bundle them together by using

zip ties

and

hook-and-loop straps

.
RackSolutions Open Frame Server Racks
RackSolutions RS148 and RACK-111 provides a durable and cost-effective solution to manage rack-mount equipment. Our open frame racks are designed for data centers, server rooms, and rack-mount equipment in IT environments. Both 4 post open frame rack models meet EIA standards for 19" server racks and are compatible with rack-mount servers, networking, and telecommunications equipment from leading OEMs including Dell, HP, IBM, and other brands.
RS148 Open Frame Rack
The RS148 Open Frame Data Center Server Cabinet comes fully assembled and is only available in 48U height and 48" depth. The RS148 Open Frame Rack comes with 4 adjustable cable management bars to organize cables, support power distribution, and maximize airflow pass through. Constructed from 13 GA steel, the 4 post rack frame is finished with a black powder coat and features mounting points for custom solutions and additional accessories to be used.
If you have more than three racks, bulk shipping is available to save on shipping costs. The racks come partially assembled and can ship 5 racks per pallet instead of 1 rack per pallet, which will also save a substantial amount on truck space.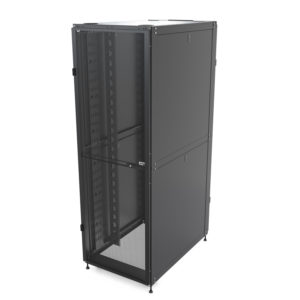 RACK-111 Open Frame Server Rack
The RACK-111 Open Frame Server Racks are available in sizes ranging from 5U to 58U, allowing you to select any specific size for installation. The RACK-111 comes with 1 vertical cable management bar, but is sold separately for 50U-58U rack height options.
Optional side panels and a top panel are used to help control the airflow of your 4 post rack. These side panels will provide a professional appearance and are ideal for end row racks. The rack top is used to prevent debris and dust while maintaining the ability to pass through cables.
Furthermore, you can read more about RACK-111 server rack accessories here. With these rack accessories designed for the open frame RACK-111, you can protect your equipment, control airflow, and manage cables for your server rack.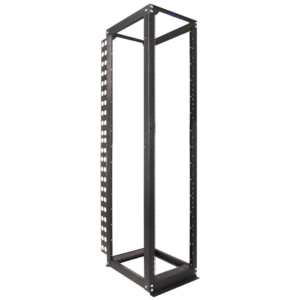 What is the Difference between RS148 and RACK-111?
| | | |
| --- | --- | --- |
| Rack Features | RS148 | RACK-111 |
| Open Frame or Enclosed Frame | Open Frame Rack | Open Frame Rack |
| Available Rack Height | 48U | 5U, 16U, 24U, 30U, 36U, 44U, 50U, 52U, 55U, 58U |
| Available Rack Depth | 48" (1200 mm) | 20", 24", 28.875" (508 mm, 610 mm, 733 mm) |
| Available Rack Width | 24" (610 mm) | 24" (610 mm) |
| Weight Capacity | Static and Dynamic: 3000 lbs (1361 kg) | Static: 3000 lbs (1361 kgs) without casters or 1200 lbs (544 kgs) with casters |
| Rack and Stackable | Yes | No |
| 19" EIA Square Mounting Holes | Yes | Yes |
| Adjustable Mounting Depth | Yes | Yes |
| Vertical Cable Management Bars Included | Yes (4 Vertical Cable Management Bars) | Yes (1 Vertical Cable Management Bar; CMB is sold separately for 50U, 52U, 55U, and 58U) |
| Customizable Configuration | Yes | Yes |
| Caster Kit | Yes | Yes |
Rack Accessories For Your Open Frame Server Rack
To optimize your rack installation, you can read more about rack accessories for your open frame server rack here. By utilizing server rack accessories, you can further protect your IT equipment, maximize cooling efficiency, and properly route cables.
For any questions about which open frame server rack will work best for your needs, feel free to contact us. If you need a custom rack size, email us at info@racksolutions.com for a custom rack quote. With our high-quality, in house manufacturing, you can be confident that you are buying the best network rack possible!