Cloud computing has become an integral part in today's digital world. Moving to the cloud allows businesses of all shapes and sizes the ability to move faster, be more agile, and lower their IT costs. Whether you're a business owner or an individual looking to explore the cloud, this guide will help you understand what cloud computing is, how it works, and the numerous advantages it offers.
What is Cloud Computing?
Instead of relying on physical hardware or infrastructure, cloud computing is the delivery of computing services through the Internet. These computing services include servers, storage, databases, networking, software, analytics, and intelligence. By using applications and services over the internet, it allows for faster innovation, flexible resources, and economies of scale.
How Does Cloud Computing Work?
Cloud computing works by utilizing a network of remote servers to efficiently store, manage, and access data and applications. When a user accesses a cloud-based application or service, their request is sent to the remote server. Once the server processes the request, it will send the results back to the user's device. As a result, the user is able to access their data and applications from anywhere with an internet connection.
Overall, cloud computing providers handle the maintenance, security, and updates of the servers. This helps businesses to focus on their tasks without worrying about the technical aspects.
What are the Advantages of Cloud Computing?
From increased scalability to security, cloud computing offers several advantages over traditional centralized computing. Here are some of the the following cloud computing advantages:
Cost – Cloud computing eliminates the capital expense of buying hardware and software. It also helps to optimize IT costs when setting up and running onsite data centers regarding server racks, 24/7 electricity used for power and cooling, and the IT experts for managing the infrastructure.
Scalability – With cloud computing services, it delivers the right amount of IT resources such as more or less computing power, storage, and bandwidth when it's needed.
Performance – Cloud computing services run on a worldwide network of secure data centers, offering benefits such as reduced network latency for applications and greater economies of scale.
Security – There are many cloud providers that offer a broad set of policies, technologies, and controls that strengthen your security. This helps to protect your data, apps, and infrastructure from potential threats.
Speed – Most cloud computing services provide self-service and on demand, so even vast amounts of computing resources can be provisioned quickly. This allows businesses a lot of flexibility while taking the pressure off capacity planning.
Productivity – Onsite data centers usually need rack and stack, which includes placing hardware into the server rack, software patching, and other IT management tasks. Cloud computing removes the need for many time-consuming tasks, so IT teams can focus on achieving more important business goals.
Reliability – Lastly, cloud computing makes data backup, disaster recovery, and business continuity easier and less expensive because data can be mirrored at multiple redundant sites on the cloud provider's network.
Different Types of Cloud Deployment Models
The three different ways to deploy cloud services are on a public cloud, private cloud, or hybrid cloud. To determine which one is ideal for you, these cloud deployment models will depend on your existing IT investments, business requirements, and what your business goals are.
Public Cloud
For starters, a public cloud delivers resources, such as compute, storage, network, develop-and-deploy environments, and applications over the internet. This type of cloud is owned and run by third-party cloud service providers.
Private Cloud
A private cloud is built, run, and used by a single organization. While private clouds are typically located on-premises, they provide greater control, customization, and data security. However, it does come with similar costs and resource limitations associated with traditional IT environments.
Hybrid Cloud
Hybrid clouds are computing environments that mix at least one private computing environment with one or more public clouds, along with on-premise data centers or edge locations. They allow you to leverage the resources and services from different computing environments, along with choosing which is the most optimal for the workloads.
Different Types of Cloud Computing Services
Continuing on from the different types of cloud, there are also four main types of cloud computing services: Infrastructure as a Service (IaaS), Platform as a Service (PaaS), Software as a Service (SaaS), and Serverless Computing. But what does each cloud service mean?
Infrastructure as a Service (IaaS)
Compared to all the cloud services, IaaS is the most basic. IaaS provides users with virtualized computing resources, such as servers, virtual machines, storage, operating systems, and networks. For more flexibility and customization, users have control over the operating systems and applications running on the infrastructure.
Platform as a Service (PaaS)
Second, PaaS cloud computing services that supply an on-demand environment for developers to build, test, and deploy applications. This computing service is designed for developers to quickly create web or mobile apps. Developers won't have to worry about setting up or managing the underlying infrastructure of servers, storage, network, and databases needed for development.
Software as a Service (SaaS)
Third, SaaS delivers software applications over the internet on a subscription basis. Users can access and use the software through a web browser. This helps to eliminate the need for installation and maintenance. Examples of SaaS include email services, customer relationship management (CRM) systems, and productivity tools.
Serverless
Lastly, serverless computing in cloud service models is also called Function as a Service (FaaS). Compared to the other cloud services, this is a relatively new cloud service model that provides solutions to functionally build applications without managing or scaling any infrastructure.
What is a Cloud Data Center?
Cloud data centers are designed to house IT infrastructure resources for shared use by multiple customers through an Internet connection. Many of the largest cloud data centers, also called hyperscale data centers, are run by major cloud service providers. Examples of providers include Amazon Web Services (AWS), Google Cloud Platform, IBM Cloud, Microsoft Azure, Oracle Cloud Infrastructure, Apple, and Facebook.
Cloud service providers will typically maintain smaller, edge data centers located closer to cloud customers. For real-time, data-intensive workloads such big data analytics, artificial intelligence (AI), and content delivery applications, edge data centers can help minimize latency. This improves overall application performance and customer experience.
RackSolutions Server Racks and Cabinets
Whether you need a single server rack or multiple for your edge data center, we provide a variety of server racks, cabinets, and rack accessories that are ready to order.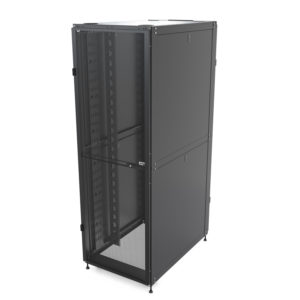 If you have any questions about our server racks and cabinets, feel free to contact us for more information. With our high-quality, in house manufacturing, you can be confident that you are buying the best equipment possible!

FAQs: Cloud Computing
Does cloud computing require technical IT experience?
Cloud computing does not require technical IT experience. Whether you have a basic understanding of cloud concepts or have more technical expertise, you can apply your on-premise computing knowledge to the cloud.
What is rack and stack?
A rack and stack occurs when the equipment in your rack is mounted (racked) before being moved to the data center for deployment (stacked). By racking and stacking your server racks, you can immediately take advantage of the floor space in your data center. This cuts out wait time between your rack being on the floor and actually deploying it for use. However, before you embark on a rack and stack, there are multiple things to consider such as: load/weight capacity, rack mount equipment, and rack height.
What are the uses of Cloud Computing?
Other than IaaS, PaaS, serverless, and SaaS, there are other common uses of cloud computing. This includes: File Storage, Data Analytics , Data Backup, Disaster Recovery , Cloud Storage, Big Data Analytics, Software Testing and Development, Hybrid Cloud, and Multicloud.