If you haven't heard of hyperscaling before, it's an initiative to fit as much computing power into a given space as possible. In order to increase scalability, data centers need to be more dense, have increased cooling, better monitoring, and maximum power. As a cost-effective solution for hyperscale data centers, this is where our HyperShelves come in.
Inspired by data center optimization, a HyperShelf allows you to rack mount multiple devices into a shelf while running at full load. Overall, it's an efficient way to optimize rack space and airflow for a lower installation cost per device and easier in-rack serviceability. So what is there all to know about a HyperShelf?
What is a HyperShelf?
HyperShelves are a high density and cost saving PC rack mounting solution for enterprise deployments and hyperscale data center environments. Instead of using multiple 1U rack shelves to manage your devices, a HyperShelf is perfect for increasing shelf density, decreasing deployment times, and achieving a massive amount of computing power in limited space.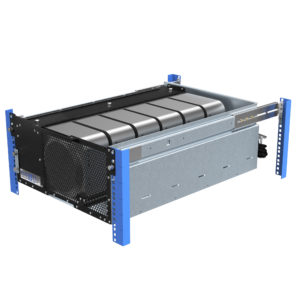 Common features that our HyperShelves provide are:
High-density machine deployment
Provides optimal airflow through the system
Easy serviceability and maintenance
Scalability of the design
Cost to deploy or economics of using a Hypershelf
Additionally, hypershelves are a cost effective solution because there is a big range of cost / machine. For example, the HyperShelf for Apple Mac Mini is $599.99 and supports 16 devices. By taking $599.99 / 16, the mac minis can be deployed for $37.49 per machine.
In comparison, the Apple Mac Mini Relay Rack Shelf is $359.99 and supports 4 devices. The mac minis can be deployed for $89.99 per machine, which shows that the total cost per machine is higher than the cost for the 16 Apple Mac Mini HyperShelf ($37.49).
Although the relay shelf contains 4 devices per 1 rack unit (4 / 1 = 4 per RU), the Hypershelf contains 16 devices per 5 rack units (16 / 5 = 3.2 per RU). Even though the relay shelf has a higher density per rack unit, the hypershelf is a high-density solution while also maintaining the following features: airflow, serviceability, scalability, and cable management.
What are HyperShelves used for?
Hypershelves are used to deploy the maximum number of machines in the smallest amount of space possible while still allowing for optimal airflow through the system. These shelves allow you to mount as many small form factor (SFF) PCs in a rack shelf while running at full load. You can easily extend the shelf out of the rack for in-rack serviceability and replacement of the devices. By using any of our HyperShelves, you can maximize space, accessibility, operational efficiency, and scalability.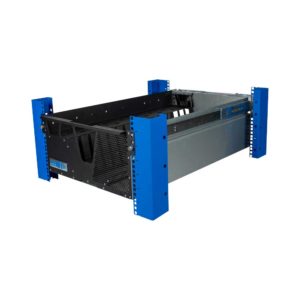 Here are the following HyperShelves that we currently provide:
Apple
Dell
Lenovo
How do I manage airflow in my HyperShelf?
Designed to effectively manage airflow, all of our HyperShelves feature integrated airflow for optimal cooling and thermal efficiency. The intake and exhaust separates hot and cold air from mixing, which helps to increase airflow and cooling capacity. By using a HyperShelf, you can be sure that your computing devices will not overheat and maintain performance.
Are fans included?
Exhaust fans are only included with the Lenovo ThinkStation P360 Ultras (115-8939), Dell Precision 3240 Compact Workstation (115-7844), and Dell Precision 3260 Compact Workstation (115-8765) models. For all other listed HyperShelf models, the customer is responsible for sourcing their own fans, either from RackSolutions or through another supplier.
Are the side panels removable?
Removable side panels are held in place by use of captive screws. For exact removal steps, please refer to the installation instructions found in the delivered kit or on the model's webpage under the "Instructions & Drawings" tab.
Do you have any thermal testing?
We currently have in-house thermal testing data for our Lenovo ThinkStation P360 Ultras (115-8939) and Dell Precision 3240 Compact Workstation (115-7844) HyperShelves. Future hypershelf projects will undergo in-house thermal testing if requested and if equipment availability allows.
Do you have a cabling diagram?
Yes, we have cabling guides for Lenovo ThinkStation P360 Ultras (115-8939) and Dell Precision 3260 Compact Workstation (115-8765) HyperShelf models. For all other listed HyperShelf models, please contact our sales team at 888-505-RACK or info@racksolutions.com with any cabling questions you may have. You can locate the cable guide in the "Instructions & Drawings" tab.
RackSolutions HyperShelves and Rack Accessories
RackSolutions provides a variety of HyperShelves and rack accessories that are ready to order. If you have any questions about our shelves, feel free to contact us for more information. We are absolutely ready to find the most effective way to fit your computing devices into our HyperShelves. With our high-quality, in house manufacturing, you can be confident that you are buying the best HyperShelf possible!

FAQs: HyperShelves
Do you offer custom HyperShelves?
RackSolutions is always prepared to create custom products for your specific needs. We can design solutions and immediately send out prototypes. If you need a custom HyperShelf, then we can make it happen. You can contact our sales team and support for more information.
What is a Blanking Plate?
Similar to server rack blanking panels, the Blanking Plate allows IT professionals to control the airflow in their hypershelf, rather than the entire server rack enclosure. Our blanking plate improves the efficiency of integrated airflow ducting within the shelf. The blanking plate prevents the hot and cold air from mixing, where only the hot air is pulled out by the exhaust fan.