The 42U Server Rack Enclosure is a staple in the family of open-frame, and transport racks that are available from Rack Solutions.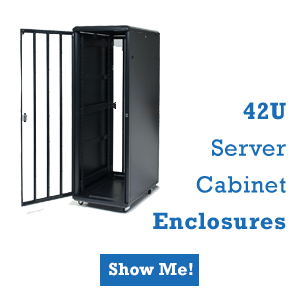 The 42U Server Rack offers an adjustable mounting depth of 6 – 30 inches and has an overall depth of 39 inches. All enclosures are equipped with universal square holes, cable pass-throughs in the top and the bottom of the rack, and are compatible with HP, IBM, and Dell Servers. The 42U Server Rack has a capacity of 1,680 pounds and is also equipped with casters, levelling feet, and cage nuts.
The added benefits of this versatile rack can be seen in the removable, lockable, and reversible doors and sides, as well as the additional perforation on the doors. Keep in mind that the extra perforation exceeds OEM air flow requirements. Also, these racks meet the standards for 19 inch server racks as set forth by EIA.
Concerned about security? The 42U comes standard with a locking front door, back door, and side panels. Not enough for you? The latches can be upgraded for additional security and piece of mind.
Getting the rack but need a few extra things? You can also get a vertical cable management bar, fan tray, latch upgrade, baying kit, cage nut tool, and filler panels in addition to ordering the 42U Server Rack from Rack Solutions. If you're on the fencepost about the add-ons, we don't blame you. Just keep these things in mind:
The vertical cable management bar is exclusive to the Rack-151 enclosure.
The fan tray is powered with a standard 110 power cable.
The latch upgrade does offer a higher degree of security.
The cage nut tool will save you from cutting up your hands when

combatting

cage nuts.
The 42U Server Rack is currently in stock and available at Rack Solutions. If it's in stock at Rack Solutions, it'll ship from their warehouse that day! Freight shipping and additional shipping prices are available. See the 42U Rack here!