Portable server racks have a wide range of use cases and are purchased by both institutions and enthusiasts. Some are better for hauling from room to room, while others are built to withstand long distance travel and implications that might come with that.
Different types of portable server racks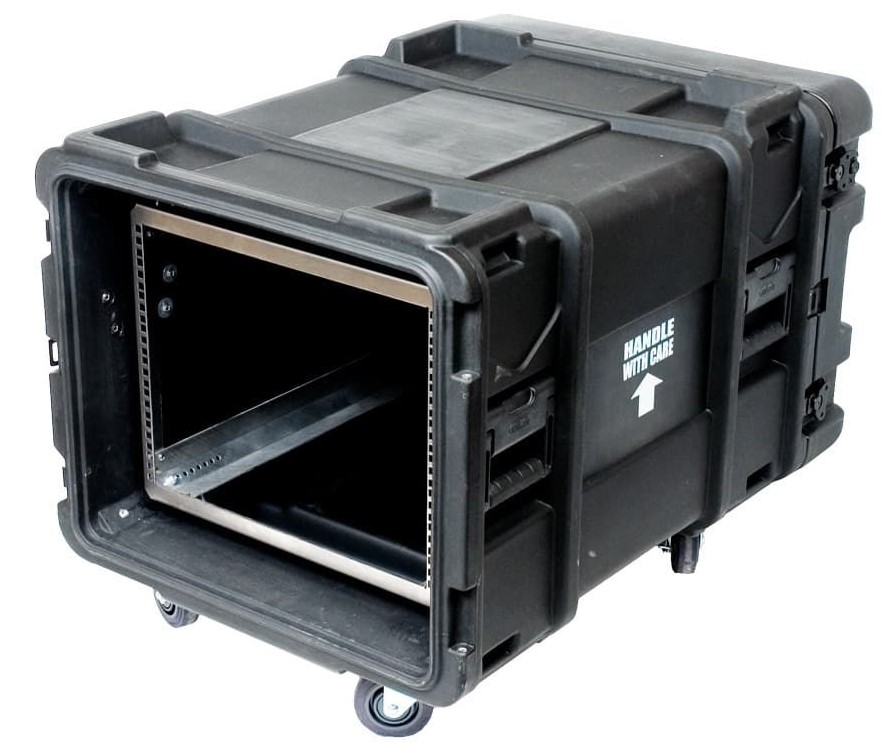 Technically, if you want a portable server rack, you can throw casters on a standard rack and call it a day. The problem is, not all racks come with a place to attach casters, and drilling new holes might be difficult or decrease resale value in the future.
So customers that aren't entirely sure if they need a portable rack can get something that supports adding them on, like RackSolutions Open Frame Server Racks. Additionally, almost all of RackSolutions' enclosed cabinets come pre-installed with casters that can be removed. Just make sure that the rack you choose can support being moved via casters when equipment is mounted inside.
Putting a server rack on wheels is all that it really takes to make it "portable." But for the group of people who know they're going to be actually carrying it to a different location, getting something with handles might be a benefit. In that case, they can look into purchasing a formal Portable Server Rack.
Lastly, the highest tier of portable racks that you will see is a shock isolating transportation racks. These are ,of course, equipped with handles and casters like the former racks, but are engineered to absorb shock as well.
Transport Case Racks are built to essentially isolate a rack inside of a case. The case itself is heavy duty and it only connects to the rack inside via "shock towers." They are connected in 8 spots, on each corner of the rack and make it so that if the case is impacted or moved around quickly, the rack won't have to eat the impact.
Why would anyone need a portable rack?
In each tier of consumers, whether it be retail or data center customers, there are people who can take advantage of portable racks.
For example, anyone who can't fill a 48U standard rack already is the target consumer for products like the 16U Office Cabinet. This model comes with casters which can be very useful for those whose small operation is confined to a small space.
Take this Reddit user for example:
"For me, the casters are essential, as the place my rack lives is smaller than I would want it to be; the front door has enough room to open, and the back doors can open, but there's not enough room to get back there and work. In my case, I have to roll the rack forward when I need to move it back. That's the main pro of casters for me." – u/networkarchitect
Remember, racks can become VERY heavy. Any type of portability can save time disassembling in the event that it needs to be moved a few feet over.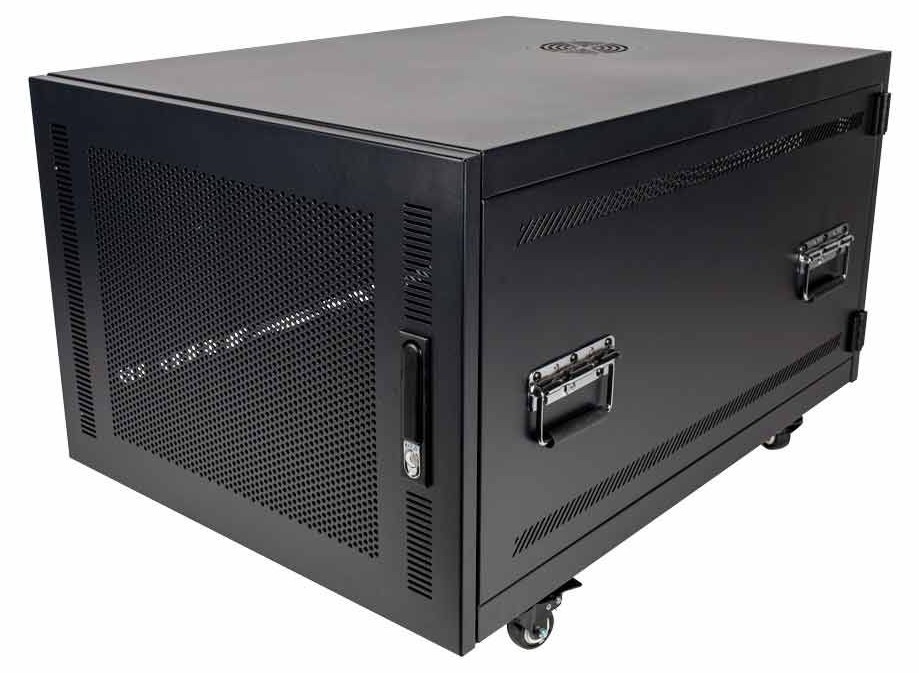 Another demographic that can take advantage of portable racks are people who work with audio and video equipment. We've sold racks with casters to churches that don't necessarily need uptime and redundancy, but need to be able to move A/V equipment on and off of the stage. This same situation happens on campuses with multiple conference rooms or studios.
And of course, video or audio professionals sometimes film and edit in remote locations. Since A/V equipment is essential to their income, it can be moved safely with products like the Transport Case Rack.
And lastly, there are the people who need to move around equipment in a secure and confidential manner. Institutions like data centers and the military don't often share why or when they need to move things around, but the market for ultra functional and secure rack cases speaks to that demand.
Need a custom portable rack?
RackSolutions not only has a website full of rackmount equipment, but we've been designing custom products for large companies over the past 20 years. Whether you need a basic, but custom tailored design or a portable rack equipped to survive in a warzone, our engineers can make it happen.
Give us a call or email and we'll be ready to discuss and send out prototypes ASAP!