If you're looking to improve the functionality and organization of your server room, a sliding rack shelf may be just what you need. This convenient rack accessory allows you to easily access your equipment without having to remove it from the rack, making maintenance and upgrades a breeze. Plus, it helps keep your space tidy and clutter-free.
What is a Server Rack Shelf?
Designed to hold and store IT equipment, a server rack shelf is mounted directly inside a 19" server rack among all of the other rack mounted equipment. These rack shelves can be mounted into server racks, AV racks, or network racks.
Rack shelves are used to store servers, desktop PCs, laptop computers, IT devices, printers, monitors, tools, switches, and other tools or equipment that is not usually rack mountable. Not only does a server rack shelf provide additional storage for equipment, but it also keeps your rack space organized, making servicing equipment much easier.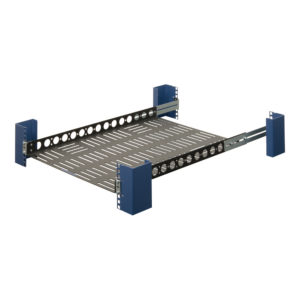 Benefits of Sliding Rack Shelves
So what are the benefits of using a sliding rack shelf? To begin with, using a sliding rack shelf in your server room can provide several benefits. Sliding shelves allows for easy access to your equipment, making maintenance and upgrades quicker and more efficient. Secondly, it helps keep your space organized and clutter-free, reducing the risk of accidents or damage to your equipment. It will also be easier to run new cables, troubleshoot issues, and prevent dust from accumulating.
Additionally, sliding shelves help improve airflow and cooling within your server room, which can prolong the lifespan of your equipment. Overall, investing in a sliding rack shelf can improve the functionality and longevity of your server room.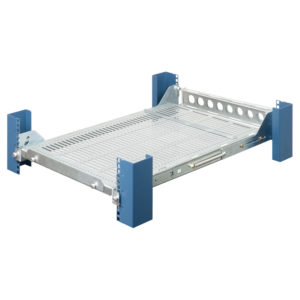 Types of Rack Shelves: Sliding Shelf vs Fixed Shelf
The two types of shelves installed in a server rack are fixed and sliding shelves. So what makes a sliding rack shelf different from a fixed shelf?
Fixed Shelves
For starters, fixed shelves are locked into place and prevent accidental damages from movement that occurs inside the rack. These shelves are ideal for equipment that will be physically examined, moved, or modified every so often. As a result, a fixed shelf is not for you if you need to access your equipment on a regular basis.
Sliding Shelves
In comparison to fixed shelves, sliding shelves are used to service your equipment by sliding your shelf in and out of a rack. For companies that need to regularly work with their servers on a weekly or monthly basis, these sliding shelves provide easier access for individuals that need to examine, modify, or fix the hardware.
How Much Can A Sliding Rack Shelf Hold?
Before selecting a rack shelf, you need to consider the equipment weight that will be stored in your server rack. Rack shelves are designed with a maximum weight limit, so you need to select a shelf that is capable of supporting all your equipment.
If you select a shelf that does not meet the weight requirements of your equipment, it could cause equipment damage. To avoid any accidental damages, you need to obtain the accurate weight capacity of each piece of equipment that will be placed onto a shelf. For reference, here is a weight comparison of our sliding rack shelves.
Edit

| | | | | |
| --- | --- | --- | --- | --- |
| Sliding Rack Shelf | 1U Light Duty Sliding Laptop Shelf 18" Depth | 1U 115 Sliding Equipment Shelf 27in Depth | 2U Heavy Duty Sliding Rack Shelf 28in Depth | 2U Extreme Heavy Duty Sliding Shelf 28in Depth (500 lbs) |
| SKU | 115-5029 | 1USHL-115 | 2USHL-130 | 115-4044 |
| Strength | Light Duty | Standard | Heavy Duty | Extreme Heavy Duty |
| Weight Capacity | 75 lbs | 95 lbs | 235 lbs | 500 lbs |
Do You Need an Extreme Heavy Duty Sliding Shelf?
If you have heavy duty equipment that requires a sliding rack shelf, then you should consider using our 2U Extreme Heavy Duty Sliding Shelf. Featuring a weight capacity of 500 lbs, this rack shelf is primarily designed for servers, computers and other equipment that needs to be stored on an extreme heavy duty shelf.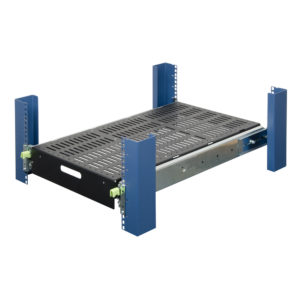 You will be able to pull out shelves that can be slid forward for easy access during operation. It's great for non-rack-mountable equipment, large tower servers, and heavy switches.
RackSolutions Extreme Heavy Duty Sliding Shelf
Additional Accessories
When purchasing rack shelves for computer or networking equipment, it is a good idea to utilize additional accessories to keep your rack organized and safe.
Anti-Slip Mats – Putting an anti-slip mat down onto your rack shelf can keep equipment in place while working on it or before it is bolted in.
Cable Straps – Cable straps can be effectively used to bring multiple cables together for improved organization. This can be done just after the cables come out of the equipment before they go into the cable paths of the rack itself.
Transport Straps – Having straps to secure network equipment on carts or vehicles while it is being transported can help to avoid accidental damage.
RackSolutions 2Post and 4Post Rack Shelves
We provide a wide range of shelves designed for a variety of specialized rack deployments that exist in the IT industry. Depending on your needs, you can choose from our sliding shelves, fixed shelves, HyperShelves, and more.
If you have any questions about our rack shelves, feel free to contact us for more information. With our high-quality, in house manufacturing, you can be confident that you are buying the best enclosed rack possible!

FAQs: Server Rack Shelves
Which rack shelf is best for you?
Whether you are managing a data center or network closet, it's important to select the correct rack shelf based on your current and future needs. Rack shelves come in different sizes and configurations to serve a wide variety of needs. The major factors that need to be considered are the dimensions, weight capacity, and compatibility.
Determining how many servers and shelves you are installing and how often the equipment will need to be serviced can help you decide whether a fixed or sliding shelf is ideal for your setup.
What is considered a heavy duty rack shelf?
Heavy duty rack shelves are designed for equipment that is 200 lbs or more. The weight limits in the 'heavy duty category' can go up to 500 lbs or even more. These rack shelves can hold stacks of servers, computers, monitors, or most any other type of heavy equipment you need in a server rack.
When can rails be alternatives for rack shelves?
If your equipment doesn't have a proprietary mounting solution and will be left in one place for a while, the rack shelves would typically be the best solution. However, there are cost effective solutions if you choose to use rack rails instead.
Universal Rack Rails are shelves with L shaped hinges that support equipment from both sides, rather than having a platform to lay things on top of. This means that they use less material, and are simple to slide equipment off.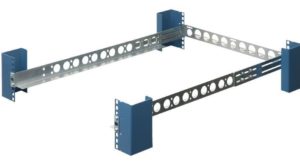 You will be able to install these rails no matter what width of your rack is since the two brackets do not need to connect. Additionally, you can use reducer brackets to mount smaller equipment like patch panels or switches.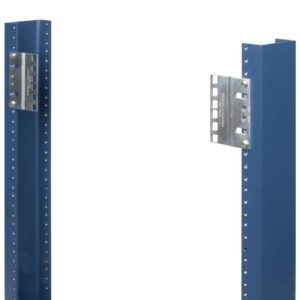 What's the difference between rack shelves and rack rails?
There are multiple variations of server rack shelves and rack rails, so it can be hard to determine which option is best for you. Both shelves and rails are available in sliding or fixed options, work with 2 posts or 4 posts, and mount a variety of equipment.
Essentially, there are two main characteristics that determine whether you should be using a shelf or rail. Rails are used for equipment that is built to be mounted on a rack while shelves are more versatile and carry anything that they can support. You can check out our shelves and rails comparison blog for more information.