If you need a secure solution to protect your equipment, we have the perfect server cabinet and cable management accessories to fit your IT needs. By securing your equipment, you can reduce the risk of downtime and achieve maximum uptime by keeping a strong barrier between your IT equipment and external damage.
What is the Purpose of a Server Cabinet Enclosure?
Enclosed server cabinets are a great way to prevent equipment from being tampered with, especially if you're storing equipment that holds valuable information. Compared to open frame racks, our enclosed racks are lockable, have front/back openings, and serve as a second level of protection.
If your business relies on servers to store and manage data, you may want to consider investing in server cabinets for your data center. These cabinets offer a range of benefits that can help improve the efficiency and security of your IT infrastructure.
What are the Benefits of Enclosed Server Cabinets?
Essentially, server cabinet enclosures offer numerous benefits for businesses, including improved organization, security, and cooling. Here are the top 5 benefits that an enclosed server cabinet provides:
1. Enhance Security – One of the biggest benefits of using server cabinets is the enhanced security they provide for your IT equipment. Server cabinets are designed to keep your servers and other IT equipment safe from unauthorized access, theft, and damage. Enclosed server cabinets come with locking mechanisms and other security features that prevent unauthorized access to your servers.
2. Prevent Equipment Damage and Downtime – Additionally, server cabinets can protect your IT equipment from environmental factors such as dust, moisture, and temperature. These are the types of factors that can cause damage and downtime. By investing in server cabinets, you can ensure that your IT infrastructure is fully protected and secure at all times.
3. Airflow Control and Cooling – In some cases, you would assume that enclosed racks don't have much airflow compared to open frame racks. However, enclosed racks provide plenty of air circulation due to the perforated doors. This will help you keep your equipment cool in a place with a higher temperature than usual. Plus, enclosed cabinets can have fans, filler panels, and other airflow or cooling devices installed to better control the airflow. With proper airflow, you avoid multiple problems such as overheating issues to improve the performance of your servers.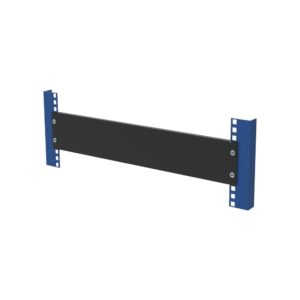 4. Easy Maintenance – To ensure that your facility is running at full capacity, data center maintenance is crucial. For enclosed racks, maintenance becomes easier if you have sliding rails and sliding shelves. This is because the sliding rack rails and sliding rack shelves ensure that servers are easily accessible, making routine maintenance a breeze.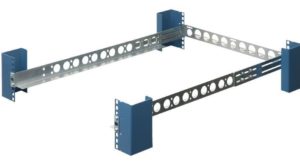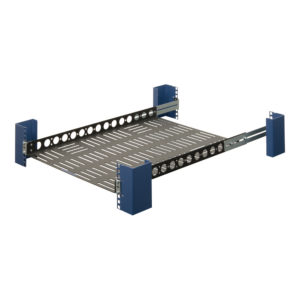 5. Improve Cable Management – Lastly, the enclosed server cabinets also hide cabling away more effectively. This will give your rack an organized appearance and can also help to reduce the risk of cables getting damaged. You could also utilize a cable management bar to route cables to data switches or UPS devices in a structured manner.
Do You Need a Server Cabinet Enclosure?
Overall, enclosed server cabinets provide a secure solution for rack-mount equipment in IT environments. Our RACK-151 server cabinet enclosures meet EIA standards for 19" server racks and are compatible with rack-mount servers, networking, and telecommunications equipment from Dell, HP, IBM, and other brands.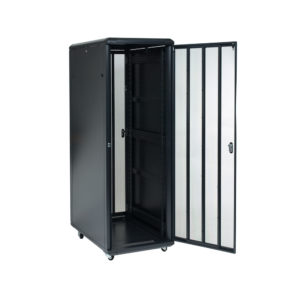 The Rack Model 151 server racks are available in sizes from 18U to 42U, featuring 63% perforation on doors that exceeds OEM air flow requirements. Rack-151 ships fully assembled and ready to roll into place and start using immediately. The IP Rating (Ingress Protection Rating) for RACK-151 is also IP31. Furthermore, this enclosed server cabinet provides security and access control with optional latches that include master keys and multiple key combinations.
Server Cabinet Enclosure Features
| | |
| --- | --- |
| RACK TYPE | RACK-151 |
| Available Heights | 18U, 22U, 27U, 32U, 37U, 42U |
| Available Depth | 39" (1000mm) |
| Available Width | 23.6" (600mm) |
| Weight Capacity (Static) | 1680 lbs |
| Rack and Stackable | No |
| 19" EIA Square Mounting Holes | Yes |
| Adjustable Mounting Depth | Yes |
| Fully Enclosed Rack with Perforated Locking Doors | Yes |
| (4) Vertical Cable Management Bars Included | No |
| Customizable Configuration | No |
| Caster Kit | Yes |
Cable Management Accessories For Your Server Cabinets
Effective server rack management helps to improve physical appearance, cable traceability, airflow, cooling efficiency and troubleshooting time while eliminating the chance for human error. In the long run, cable management will definitely save you money. Your business will be able to run more smoothly, have fewer outages, and less maintenance and repairs.
If you need cable management accessories to purchase for your data center or home office, we provide a variety of cable management solutions. These solutions will help you manage cables and optimize the airflow throughout your rack to ensure an organized operating environment for your equipment.
RackSolutions Custom Server Cabinet Enclosures
Most enclosed server racks are lockable, limiting intentional or accidental tampering with your IT equipment. On top of that, most of the hardware is covered by metal, giving a unified and finished appearance that fits into a professional environment.
If you have any questions about our enclosed server cabinet or need a custom rack size, feel free to contact us for more information. With our high-quality, in house manufacturing, you can be confident that you are buying the best enclosed rack possible!

FAQs: Enclosed Server Cabinets
How much U space do I need?
The front and back of server racks have either square, round or threaded holes that are used to secure equipment. A "rack unit" or "U space" is 1.75 inches of vertical space on a rack which contains three holes. It's an easy way to measure space taken up by equipment and helps standardize sizing in the industry
You need to be familiar with how much U space your equipment will take up in order to save money while making sure everything fits. If you end up with too much open space, you may need blanking panels to keep the airflow contained.
How much depth does my rack need?
Depth is equally as important as U space because not having enough room means that you might be returning or reselling your rack. When considering the depth of your rack, you will need to find the dimensions for your current hardware and any additional hardware that you may need in the future. If you don't, your equipment won't fit inside the server rack.
What internal and external width do I need?
Most server chassis will have a width of 19 or 23 inches. External width is relevant to the space that the rack takes up inside of a room. It can extend up to 32 inches to provide space for cable management, power supplies and other accessories. To summarize, you need to check the width of your equipment to determine if it's compatible with the internal width and your floor space for the external width.