The Dell OptiPlex Micro is an ultra compact desktop designed to free up your workspace. This form factor provides maximum productivity and increased power in a small package for any business environment. For individuals that need a space-saving chassis, micro PCs are a great way to conveniently keep your desktop off the desk, off the floor and out of the way.
Benefits of Wall Mounting Your Dell PC
Wall mounts allow for the most efficient use of space when mounting desktop PCs. You can mount your desktop to the wall to eliminate clutter, save space, improve airflow, and more. Here are some examples of where a Dell wall mount will be beneficial:
Marketing Displays – For business environments, you can have a PC and monitor mounted on a wall to display marketing information to customers. This is ideal for digital signage or kiosks in lobby areas.
Clear Desk Space – Instead of taking up desk space with your PC or monitor, you can use a wall mount to save space. By positioning your PC up on the wall, it provides a clean work area and increases visibility of your monitor.
Monitoring Stations – This is ideal for security guards, IT monitoring professionals, and other individuals who need multiple monitors that are visible. When all the monitors are mounted on the wall, you'll be able to keep an eye on different types of areas at the same time.
Entertainment Centers – For entertainment areas, having a PC run an entertainment center while a monitor serves as a TV is a popular method for space efficiency.
Improve Airflow – When your PC is mounted on the wall, there aren't many objects around the device to block the airflow. This will improve the airflow and cooling capabilities.
Prevent Dust Accumulation – Wall mounting your PC will help you prevent dust and debris from piling on top of the device. Rather than lifting or moving your PC to clean it, you can easily walk over to your wall-mounted PC and wipe the dust away with a microfiber cloth.
Do You Need a Wall Mount?
RackSolutions provides wall mounts that are designed to eliminate clutter while providing a secure and space saving solution. Our Dell OptiPlex Micro PCs wall mount creates a compact all-in-one solution and can be mounted on the wall or under a desk. The wall mount allows a monitor to be attached using 75 mm and 100 mm VESA hole patterns, which makes it compatible with most flat panel displays.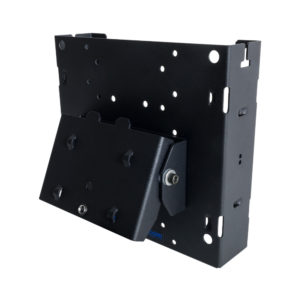 Depending on your setup, there are two wall mount options available. You can use a fixed version (P/N: 104-5005) or a titled version (P/N: 104-4935) that allows your monitor to tilt up and down for improved visibility. If you need extra security, a lock upgrade is also available to prevent unwanted access.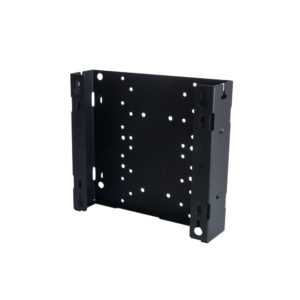 Are PC Wall Mounts Easy to Install?
Additionally, our Dell wall mounts are easy and safe for anyone to quickly install. You don't need to hire a professional to wall mount your PC, which can save you a lot of time and money. Made from solid steel construction, our wall mounts ensure that they can securely hold your PCs, monitors, or both.
How to Install The Dell Optiplex Micro Wall Mount
Dell OptiPlex Specs and Rack Compatibility
To learn more about the Dell OptiPlex PC specifications and compatible mounting equipment for your PC, you can check out our PC guides on the RackSolutions blog. Furthermore, all of our PC guides include direct links to mounting products that are compatible with the Dell OptiPlex PC and information about dimensional limitations. Mounting products include wall mounts, 4 post racks, 4 post sliding shelves, cable management, adapters, power strips, and PDUs.
Interested in our Dell Solutions?
At RackSolutions, we work to provide custom solutions for Dell products. We are always available and ready to assist you with any questions you may have. To contact our Sales and Technical Support, please email Will Beene at will@racksolutions.com or call (903) 453-0835 for further assistance. We'll help you find exactly what you need, get it to you fast, and we'll stand behind it!