RackSolutions provides a variety of server rails, wall mounts, racks, rack shelves, and more for HP servers. To determine if your HP server or PC is compatible with our products, you can check the HP Server Compatibility List on our website.
How To Identify Your HP Server Model
The first step is to identify which HP Server Model you have. You can find the product number of any of your servers by locating it on the server itself or on the warranty card. HPE PartSurfer is another way to find fast and easy access to service parts information as well. By using PartSurfer, you can:
Search for part information by product number, serial number, model name, or part number
Identify all HPE products that use/reference a specific part number
Filter your search results by part keyword or category
Display product exploded view diagrams and part photographs
Generate on-screen and printable reports
If you don't know the product number, then you can find it by entering one of the following values from your product's service tag.
Product name: The product name affixed to the front of the device.
Serial number (s/n): An alphanumeric identifier that is unique to each product.
Part number/Product number (p/n): Provides specific information about the product's hardware components. The part number helps a service technician to determine what components and parts are needed.
Warranty period: Describes the duration of warranty period for the device.
Model description (selected models only): Alphanumeric identifier used to locate documents, drivers and support for the device.
How To Identify Your HP PC Model
Furthermore, you can use HP Customer Support to find your HP PCs model number or product number. HP provides a model name, but the name and number on the front of the product might not be sufficient enough for proper support. Even though these names and numbers often represent a series of product models that look similar, they have different options and parts. The best way to find HP product information is to find your product name and model number (or Product NO or P/N on labels) and serial number (or Serial NO, S/N, or SN on labels).
HP Server Compatibility List
Once you know which model you have, you will need to locate the "Solutions by Brand" tab and select "HP" on our website. This will direct you to our product page for HP products. Next, you can locate the HP category on the left, which has a HP Server Compatibility filter for multiple server models. You will be able to search for the model number and determine if any of our products will work with your device.

Another way to search for your device's compatibility with our product is to check the product page itself. In the "Additional Information" tab, we included the model number that is compatible with the product you are viewing.
For example, the 1U Raven 100-A Rail for HP is compatible with the HP DL320 Gen 8.

Do you need HP Server Rack Rails?
RackSolutions offers a large selection of HP Server Rack Rails as an alternative or replacement to HP's OEM rail kits. We have multiple rack rail kits available for almost every HP ProLiant server and other workstations. Depending on your server type, we offer a wide variety of slide rails and fixed rails. Additionally, many of our sliding rail kits include an integrated cable management arm.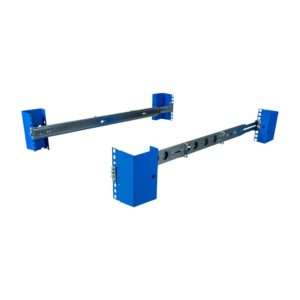 RackSolutions Universal Fixed Server Rack Rails
As another alternative option to OEM rails, Universal Rack Rails are designed to fit in any type of server. These fixed rack rails are typically designed more simply in an effort to overcome the majority of rack mounting's common inconsistencies. Depending on your server model, you can get them in sizes from 1U-3U. They are also equipped to install in racks with square, round or threaded holes. Moreover, their mounting depth is more flexible, accommodating both deep and shallow racks.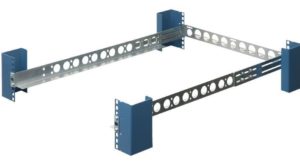 HP ProLiant Specs and Rack Compatibility
To learn more about the server specifications and compatible mounting equipment for your HP server, you can read our rail guides on the RackSolutions blog. All of our rail guides include direct links to mounting products that are compatible with the HP servers and information about dimensional limitations. Mounting products include slide rails, universal rails, standard EIA 19 inch racks, rack shelves, cable management, adapters, and a universal rack-to-tower conversion kit.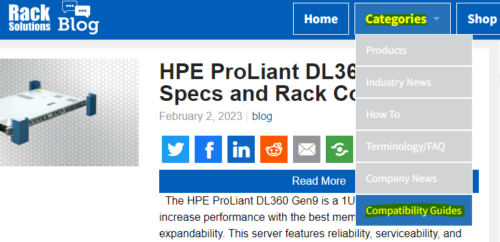 Do you need HP Wall Mounts for your PCs?
We also provide wall mounts that are designed to create a compact all-in-one setup for your HP PCs. You can mount your PC on the back of a monitor, underneath a desk, or onto a wall. These wall mounts also use 75 mm and 100 mm VESA hole patterns. Our wall mounts provide a sophisticated and clean look while hiding cables and conserving space.
Similar to the HP Server Compatibility List, you can find the HP PC Compatibility List on our HP product page. You will be able to search for the model number and determine if any of our wall mounts will work with your device.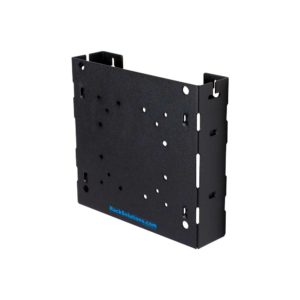 Interested in our HP Solutions?
At RackSolutions, we work to provide custom solutions for HP products. We are always available and ready to assist you with any questions you may have. To contact our Sales and Technical Support, please email info@racksolutions.com for further assistance. With our high-quality, in house manufacturing, we'll help you find exactly what you need and get it to you fast!