Custom server bezels are a great way to enhance your data center for a clean and branded look. Our bezels are specially made to the same dimensional standards as Dell factory bezels, ensuring quality fit and server compatibility. To create a custom server bezel, all you'll need to decide on is the color, hole pattern, badge location, and custom bezel part number.
What is a Server Bezel?
A bezel is typically defined as the outside frame around an object or device. In the tech industry, this means the outside frame of your computer monitor or your smartphone device. For data centers, a server bezel is a front cover or faceplate attached on the front of a server.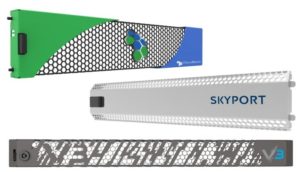 What are Server Bezels used for?
The purpose of a server bezel is to provide an extra layer of security for your server, along with covering buttons and protecting hard drives from removal or damage. Additionally, some bezels have LCD screens that allow users to view and change network settings, as well as display system-level error messages without accessing the control panel. Furthermore, companies will use custom server bezels as a way to rebrand OEM parts or increase brand recognition.
Rebranding OEM Parts
Customers can use a custom bezel to rebrand other manufacturer's hardware for presentation purposes. Companies that use this method are essentially creating a turnkey product for specific use cases. For example, a turnkey product would be a basic server with custom software. A company could develop software that makes jobs easier in the medical industry, but it requires the servers to be installed in a facility. Since the company modified the server, they can add their own rebranding to help with recognition.
Brand Recognition and Appearance
Customized bezels can also be used to compliment the looks of your server system and server rooms. They can also be used to make your company's servers stand out from everyone else who is using the same OEM bezel. This is beneficial for companies that provide tours of their data centers or have visible server rooms for people to see. If your servers are located in a colocation center, custom bezels can be used to help distinguish your servers from others.
Do You Need a Custom Server Bezel?
RackSolutions offers custom designs for bezels on numerous Dell and OEM server models. All of our bezels are made from steel and manufactured on a state-of-the-art Amada turret laser. These custom bezels are made to the same dimensional standards as Dell factory bezels.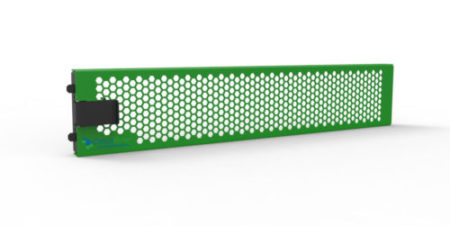 The end caps and locks are the exact same as used on Dell factory bezels, ensuring quality fit and server compatibility. Additionally, your bezels will arrive fully assembled (badges are purchased and installed separately) and ready to install on your servers.
Customized Bezel Design Options
To ensure that you receive your desired design, here's a step by step guide on creating a custom bezel. You can also refer to our bezel design guide for more detailed information when deciding on the hole pattern, badge location, and color.
Hole Pattern
We provide 4 different hole pattern options. You can select round holes, square holes, hexagon holes, or diamond holes.
Bezel Styles and Badge Locations
Badges are a great way to showcase your company logo, and we have unlimited options available. Once you select your hole pattern, you can choose between 2 two basic badge location options: middle and bottom right, or top right. If you need a custom badge location, it may be accommodated upon request.
Here are the following options that we provide for bezel styles and badge locations:
Edit

| | |
| --- | --- |
| #R1A | Round Hole Pattern, Middle and Bottom Left Badge |
| #R1B | Round Hole Pattern, Top Right Badge |
| #S1A | Square Hole Pattern, Middle and Bottom Left Badge |
| #S1B | Square Hole Pattern, Top Right Badge |
| #H1A | Hexagonal Hole Pattern, Middle and Bottom Left Badge |
| #H1B | Hexagonal Hole Pattern, Top Right Badge |
| #D1A | Diamond Hole Pattern, Middle and Bottom Left Badge |
| #D1B | Diagonal Hole Pattern, Top Right Badge |








We recommend that you work directly with Marking Systems, Inc. for a decal design and procurement. They offer a 24-48 hour prototyping process and a reasonable minimum requirement for orders. Furthermore, urethane "bubble badges" are a good choice for a professional look and reasonable minimum orders without custom tooling.
Most customers apply the decal themselves, allowing multiple decals sets and model changes without affecting the bezel procurement process. If needed, we can apply the decals for a nominal fee.
Color
Lastly, we provide 11 colors as a standard offering but have color matching options for an additional fee. Each bezel is powder coated with cardinal paint that is tough, scratch-resistant, fade-resistant, and durable.
For reference, powder coating is a painting process that produces a highly wear-resistant color coating with gloss or matte finish. Powder coating involves applying electro-statically charged dry powder to the steel bezel. Once the coating is applied, the bezel is heated so that the powder melts evenly to flow over and fuses itself to the steel, forming a thin protective film on the material.
Here are the 3 levels that we provide for color options.
Level One: Standard Dell with Standard Color
5 Standard Colors available
Minimum Order Quantity of 50
Discounts available for larger quantities
4-6 week lead time
C # 048 Gloss White T009-WH12, C # 001 Black Texture T041-BK179, C # 014 Gloss Blue T008-BL20, C # 003 Gloss Red T009-RD03, C # 020 Gloss Black P009-BK180
Level Two: Standard Dell with Premium Color
6 Premium Colors available
Minimum Order Quantity of 50
Discounts available for larger quantities
6-8 week lead time
Additional cost for premium paint
C # 034 Gloss Gray P008-GR21, C # 035 Gloss Gray T009-GR230, C # 007 Gloss Orange T009-OG01, C # 017 Gloss Blue T009-BL05, C # 009 Gloss Yellow T009-YL14, C # 013 Gloss Green T007-GN13
Level Three: Full Customization for Any Server
Unlimited colors available, just provide us with a Pantone number
Custom silkscreens available
Minimum Order Quantity of 100
Please call for a custom quote
8-10 week lead time
The order for custom paint will require a Non-Cancellable and Non-Returnable (NCNR) contract
Part Numbering
To receive a formal quote, you must provide the custom bezel part number for your desired bezel. This step is especially crucial, since the part number is required before we can begin the customization process. Each server bezel is defined by a part number that denotes the server type, hole pattern, badge location, and color.
The part numbering sequence is as follows: 103 – [server type] – [hole pattern and badge location] – [color].
Your server type is based on your server model. These are 5 server type categories:
1PEA – (1U) DELL R210, R220, R310, NX300, R410
1PEB – (1U) DELL R610
1PEC – (1U) DELL R320, R420, R620, R630*
2PEA – (2U) DELL R510, R520, R720, R720XD, R730*, R730XD*
2PEB – (2U) DELL R710
*Bezel does not work with servers that have iDraq Quick Sync.
**If your server model is not listed above, please contact our sales team and provide us with your specific server model.
For your reference, here is a part number example:
103
Server Type – 1PEA
Hole Pattern and Badge Location – R1A
Color – 048
Once you put it together, the example part number will be:
What is the Pricing for Custom Server Bezels?
All bezel projects level one and level two require an up-front $500 prototyping fee that will be credited back to your final order.
Level Three custom bezels require a $1,000 up-front prototyping fee that will be credited back to the final order.
Level One bezels can start as low as $99.99 but require a minimum order quantity of 50.
Level Two and Level Three bezels will have higher pricing and larger minimum order quantities. This will be determined based on the final design and how much engineering work will be required.
All custom paint requests will have a minimum $1,750 custom paint charge.
Once you have your custom bezel part number, please contact us with the part number, your server model, and a confirmation that you have read all the above information and would like to continue moving forward in the custom bezel design process.
RackSolutions Custom Colored Server Bezels
We specialize in creating and developing custom solutions for our customers. If you need a custom server bezel, then let us know and we'll be able to make it for you! We are happy to provide you with multiple bezel options so that you can get your desired design!
To contact our Sales and Technical Support, please email us at info@racksolutions.com with any questions you may have. With our high-quality, in house manufacturing, you can be confident that you are buying the best server bezel possible for your setup!