Colocation rack cabinets provide a secure, self-contained means for 2-4 tenants to share a single rack enclosure. A colocation cabinet is primarily used by businesses that rely on data center colocation services for hosting and maintaining their IT equipment.
What is Colocation in a Data Center?
Colocation data centers allow businesses to store servers and computing hardware in a secure facility with power, bandwidth, and public IP address provided by a third-party service provider. These colocation data centers (also known as colo) are ideal for both small and large businesses that want to save on costs.
Small businesses will be able to acquire features of a large IT department while large businesses can expand their infrastructure capacity. Colocation benefits include the following:
Reduced power and bandwidth costs
High-speed and redundant 24/7 network connection
Physical data center security measures
Compliance certifications and badges
Long-term stability, flexibility, and scalability
Technical support
Improved network security
Risk management
What are Colocation Data Center Services?
Businesses rely on colocation data centers to support their servers and storage. Colocation services include network providers, cloud providers, and enterprises. These services offer networking, redundant power and cooling components, physical security, and the building where everything is housed. By using colocation services, customers will be able to centralize their daily IT operations and reduce costs on capital expenditures.
Do You Need a Colocation Cabinet?
Depending on the security features and costs of your business, colocation data centers allow customers to lease out partial space in a rack mount enclosure. The colocation cabinets are designed to effectively manage airflow as well as an open or enclosed rack.
Colocation data centers offer secure rack mount space and IT equipment monitoring. The colocation host (provider) will provide a colocation cabinet for their customer (tenant), which protects the physical infrastructure from unauthorized access.
Colocation Cabinet Features
Colocation racks feature a flexible modular concept with either 2, 3 or 4 compartment server cabinets without losing security. The cabinets can be rented as partial, full, or even multiples, so there's always an option for your needs.
If the tenant rents partial space in a cabinet, then the host will separate the tenant's equipment from others. This ensures that the tenants cannot access each other's equipment in a shared server cabinet. As a result, businesses can be certain that their data and equipment is protected.
Additionally, all of our colocation rack cabinets feature 2-4 compartment configurations, lockable security, reversible doors, robust steel frame, and secure cable channels.
RackSolutions Colocation Server Rack Cabinet
In the following video, you can learn more about our 47U 141 Colocation Rack. This colocation server rack is designed to utilize floor space in a data center by minimizing the unused space in a secure IT cabinet.
RackSolutions Colocation Cabinets
RackSolutions provides a variety of colocation cabinets that are ready to order for colocation data centers. Our Colocation Cabinets provide secure compartments for multiple tenants to utilize a single rack enclosure without losing security. Our server racks are compatible with all leading OEM servers and equipment, such as Dell, HP and IBM. Whether your data center needs a quad cabinet or half cabinet, we'll get it shipped out to you fast.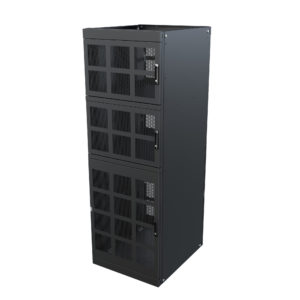 If you have any questions about which colocation cabinet will work best for your needs, feel free to contact us. With our high-quality, in house manufacturing, you can be confident that you are buying the best rack possible!